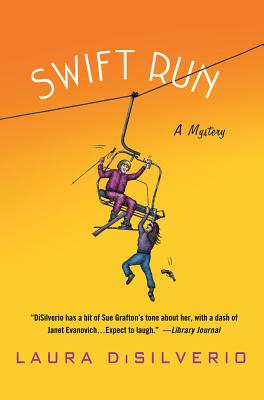 Swift Run (Hardcover)
A Mystery (A Charlie and Gigi Mystery #3)
Minotaur Books, 9780312623814, 304pp.
Publication Date: November 27, 2012
* Individual store prices may vary.
Description
Finalist for the Lefty Award for Best Humorous Mystery
With Charlie convalescing from a gunshot wound, Gigi is temporarily running Swift Investigations when Heather-Anne Pawlusik, the tramp who ran off with Gigi's husband, Les, saunters into the office. Heather-Anne wants to hire the firm to find Les, missing from their love nest in Costa Rica. Gigi tells her to am-scray, but the lure of a paying client is too much, and Les is the father of her children, so she accepts the case, against Charlie's advice.
Attuned to her embezzling ex's habits, Gigi tracks down Les but he quickly loses her. When a body turns up, the cops start measuring Gigi for a prison jumpsuit, so she and Charlie frantically hunt for Les and dig into Heather-Anne's mysterious past because orange isn't Gigi's color. What Gigi discovers, not only about Les, but about herself and her feelings for him, surprises her as much as the killer's identity.
Swift Run, Laura DiSilverio's third novel in this entertaining and original series, is a thrilling and hilarious romp. Readers will enjoy spending time with this engaging crime-fighting duo.
About the Author
Laura DiSilverio has been a Lefty Award finalist. She served as an Intelligence Officer for the Air Force and has won numerous military awards, including two Defense Meritorious Service Medals aned five Meritorious Service Medals. Her books include Swift Justice, Swift Edge and Swift Run. She lives with her family in Colorado Springs, Colorado.
Praise For Swift Run: A Mystery (A Charlie and Gigi Mystery #3)…
"Zaniness runs amok--this is marshmallow fluff at its best....Definitely for Janet Evanovich readers, and also recommended for Elaine Viets fans." —Library Journal
"The tie-in with Gigi's personal life adds clever twists to this intrigue-filled adventure. Gigi's awkward but smart investigating is reminiscent of Stephanie Plum. A series to watch." —Booklist
"Anything can happen when Gigi's at the helm." —Kirkus Reviews
"Eclair-popping Gigi and fitness-conscious Charlie are ready for another rollicking adventure in Colorado Springs. Gigi is on an emotional tilt-a-whirl trying to erase Les from her life while dealing with two recalcitrant teenagers; Charlie tries to re-enter the business after an injury. The secondary characters are multidimensional and meld well with the plot." —RT Book Reviews (4 stars)