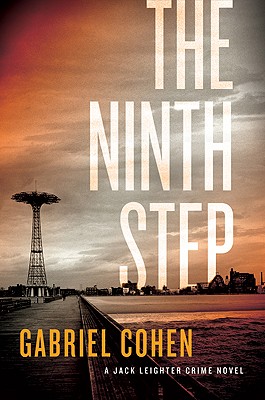 The Ninth Step: A Jack Leightner Crime Novel (Hardcover)
A Jack Leightner Crime Novel
Minotaur Books, 9780312625016, 288pp.
Publication Date: May 25, 2010
* Individual store prices may vary.
or
Not Currently Available for Direct Purchase
Description
Brooklyn South homicide detective Jack Leightner is at home enjoying a quiet day off when a stranger appears at his door and completely overturns his understanding of his own past. The following day, what looks like a mundane killing in a Brooklyn deli takes a bizarre turn when a crew of Homeland Security agents suddenly show up wearing anti-radiation gear. Soon Jack is embroiled in two dangerous and far-reaching investigations:  a hunt for the Pakistani-American deli killer, who may be a member of a terrorist cell planning a new attack on New York, and an inquiry into his own family's history on the Mafia-dominated waterfront of Red Hook in the 1960s.

At the same time, Jack is trying to figure out if he can forgive his former love Michelle. Throw in a couple of incredible (and true stories) that transport the reader to the Gulf of Aden in the age of modern pirates and to New York Harbor back in 1943, and you have the ingredients for a fascinating and thrilling new crime novel from Edgar Award finalist Gabriel Cohen.
About the Author
Gabriel Cohen is the author of six books, including the Edgar Award finalist "Red Hook." He has written for "The New York Times," "Poets & Writers Magazine," and many other publications. Gabriel lives in Brooklyn.
Praise For The Ninth Step: A Jack Leightner Crime Novel…
"Fast action and multiple plot lines make this fourth Jack Leightner mystery (after Neptune Avenue) an engrossing read, but don't get too comfortable because Cohen is a master at misdirection. Not quite as dark as Reggie Nadelson and a bit more dramatic than Norman Green, Cohen captures Brooklyn and its people in this tale of then and now."--Library Journal (starred review)

"In a spellbinding return, Brooklyn homicide detective Jack Leightner investigates a murder in the family....Deftly plotted and convincingly written. Cohen...once more does the genre proud."--Kirkus Reviews (starred review)

"Cohen's latest Jack Leightner novel might be the best so far. The borough of Brooklyn shines as brightly as the conflicted, haunted lead character, standing in for the world at large. Cohen tells a gripping story of guilt and revenge, terrorist threats and neighborhood ties and throws in a little-known historical event for good measure. Riveting!"--RT Bookreviews (4 1/2 stars)





In a spellbinding return, Brooklyn homicide detective Jack Leightner investigates a murder in the family.At 13, Petey Leightner was universally liked, a kid so profoundly sunny that his deeply dysfunctional family stayed together to bask in his aura. Petey was therapeutic. Not so his 15-year-old brother. Jack's nature was more complicated and much darker, even before that shocking day in 1965 when Petey was stabbed to death while Jack stood by, helpless to prevent his killing and guilt-ridden ever since. Now, years later, NYPD Detective First Grade Jack Leightner, Brooklyn Homicide South, learns from an absolutely reliable source that his brother's murder was not the random act of urban violence he'd always assumed. Instead, it had been ordered by the mob. Bizarre, right? Thirteen-year-old kids, especially kids like Petey, do not earn the enmity of the Mafia--unless the hit was a message. In that case, though, meant for whom? Jack won't sleep nights until he gets his answers, and Petey
Advertisement