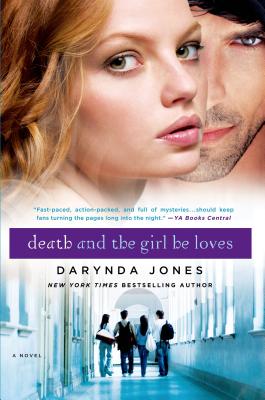 Death and the Girl He Loves (Darklight #3) (Paperback)
St. Martin's Griffin, 9780312625221, 272pp.
Publication Date: October 8, 2013
Other Editions of This Title:
Digital Audiobook (10/7/2013)
CD-Audio (5/15/2014)
* Individual store prices may vary.
Description
From Darynda Jones, the New York Times bestselling author of Death and the Girl Next Door and Death, Doom & Detention, comes Death and the Girl He Loves, the exciting third book in her new young adult series Darklight
The fate of the world is not something a girl wants on her shoulders, and that is especially true for Lorelei McAlister. Unfortunately for her, that is exactly where the world's fate has decided to take up residence. Lorelei has seen firsthand the horrors that lie beneath our everyday world. And those horrors are getting her friends killed. Because of this, she agrees to leave the sanctity of her hometown and is sent to a different world entirely. A boarding school. But even here she is being watched. Someone knows what she is. What she carries inside her soul. And on top of that she's seeing visions. This is nothing new for Lorelei. But these visions are something more: death, destruction, and the end of the world. Lorelei must face the fact that there are people who want her dead, and no matter where she goes, no matter how far she runs, the lives of her friends and family are in mortal peril. Lucky for her, her friends and family include the handsome Angel of Death, a fiercely protective half-angel, and a ragtag group of loyal supporters who aren't afraid to get a little dirty in the name of fighting pure evil.
About the Author
Winner of the 2009 Golden Heart® for Best Paranormal Romance for her manuscript FIRST GRAVE ON THE RIGHT, Darynda can't remember a time when she wasn't putting pen to paper. DARYNDA JONES lives in the Land of Enchantment, also known as New Mexico, with her husband of more than 25 years and two beautiful sons, aka the Mighty, Mighty Jones Boys.
Praise For Death and the Girl He Loves (Darklight #3)…
"Fast-paced, action-packed, and full of mysteries, Death, Doom, and Detention is a solid sequel that should keep fans of the series turning the pages long into the night." —YA Books Central on Death, Doom, and Detention
"Jones's Darklight series features all of the same attitude and humor as her adult series, but with a cast of teen characters, making it fun for adult fans as well as teens." —BookBitch on Death, Doom, and Detention
"Darynda Jones manages to write a completely unique story about a girl who's lost in her own way, an angel who's darker than he seems, and a prophecy that's scaring everyone and anyone. It seems like your typical story, but it's far from it!" —Fiction Freak on Death, Doom, and Detention
"The plot, setting, and theme are all tied together nicely to make this book a fast-paced, enjoyable novel. You'll smile, you'll groan, you'll laugh, you might even want to throw the book down in anger. Basically, you will fall even more in love with this series." —Miss Literati on Death, Doom, and Detention
"This sequel starts out with a bang and never stops." —Night Owl Reviews on Death, Doom, and Detention
"Action packed, intriguing and exciting...I cannot wait to see what Ms. Jones has in store for us in book 3, Death and the Girl He Loves." —Fresh Fiction on Death, Doom, and Detention
"Darynda continues her winning streak with "Death, Doom, and Detention"… Jones' writing--in any genre--is a breath of fresh air." —Suspense Magazine on Death, Doom, and Detention
"Unique, witty, and touching--I LOVED THIS BOOK!" —P. C. Cast, New York Times bestselling author of the House of Night series, on Death and the Girl Next Door
"Outrageously funny, sinfully sexy, with a cast of characters that steals your heart from the very first page . . . I loved this book!" —Inara Scott, author of the Delcroix Academy series, on Death and the Girl Next Door
"Death and the Girl Next Door is unputdownable. Darynda Jones breathes fresh life into the young adult genre with exciting twists to legends we only think we understand and edgy, compelling characters you can't help but care about." —Gwen Hayes, author of Falling Under, on Death and the Girl Next Door
"Only Darynda Jones could make the Angel of Death crush-worthy! Wickedly sharp with brilliant wit, Death and the Girl Next Door will leave you craving more!" —Lara Chapman, author of Flawless, on Death and the Girl Next Door
"Snapping with sarcasm and a pitch-perfect voice, Darynda Jones has brought her signature humor and supernatural sass to Riley High. Trust me, there's nothing grim about this reaper!" —Roxanne St. Claire, New York Times bestselling author of Don't You Wish, on Death and the Girl Next Door
"Death and the Girl Next Door delivers a smokin' hot story and a guy to die for. Darynda Jones gives one candy-smacking, awesome read that won't let you go until the end." —Shea Berkley, author of The Marked Son, on Death and the Girl Next Door