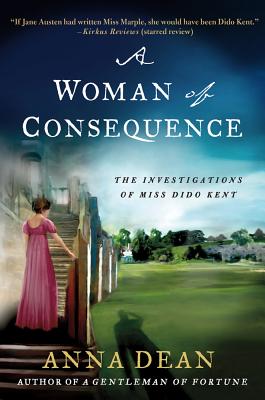 A Woman of Consequence: The Investigations of Miss Dido Kent (Hardcover)
The Investigations of Miss Dido Kent
Minotaur Books, 9780312626846, 384pp.
Publication Date: April 10, 2012
* Individual store prices may vary.
or
Not Currently Available for Direct Purchase
Description
"If Jane Austen had written Miss Marple, she would have been Dido Kent, the inquisitive spinster."--Kirkus "(starred review)"
"A Woman of Consequence," the third installment in Anna Dean's charming mystery series, opens with a visit to the ruins of an Abbey where Penelope Lambe, suffers a bad fall from the ancient stone steps. Before she slips into unconsciousness, Penelope manages to say, 'I saw her--It was her.' Soon people are certain that she saw the Grey Nun, a ghost reputed to walk the abbey's ruins. Miss Dido Kent, however, does not approve of ghosts. Disregarding everyone else's assumptions, and endeavoring to take her mind off the troubles of her family, Dido turns her energy toward solving the mystery. But events start to seem more sinister when a human skeleton is found at the abbey. Is Miss Lambe's accident connected to this discovery? Everyone is relying on Dido to find out. A captivating continuation of the Dido Kent series: rich in suspense, historical detail, and most of all, characters.
About the Author
ANNA DEAN began writing early on under the impression that everyone was taught to do so in order to pen books. By the time she discovered her mistake, the habit was too deeply ingrained to give up. She lives in England.
Praise For A Woman of Consequence: The Investigations of Miss Dido Kent…
Selected as one of Kirkus' Best Fiction Books of 2012!

"A clever regency sleuth is much like Jane Austen with her ability to see that the mundane things of life are more important than they seem."
—Kirkus Reviews (starred review)

"With its unusually fine sense of time and place, this third Dido Kent entry (after A Gentleman of Fortune, 2010) makes a charming addition to Dean's Regency mystery series."
—Booklist

"Set in 1806, Dean's pleasing third mystery featuring Miss Dido Kent (after 2011's A Gentleman of Fortune) showcases the amateur sleuth's most outstanding characteristic—her curiosity. From Badleigh Vicarage, Dido writes to her sister, Eliza, of Penelope Lambe's falling and hitting her head at ruined Madderstone Abbey, where the "sweet-tempered, good-natured girl" had gone in the hope of getting a glimpse of the abbey ghost known as the Grey Nun. Penelope's claim to have seen the Grey Nun shortly before losing consciousness leads Dido to investigate Madderstone for herself. The discovery in a drained pool on the abbey grounds of a human skeleton raises the stakes. Dean smoothly integrates a wealth of historical detail, especially regarding the rights of women and the inheritance laws in effect in the early 19th century. Well-drawn secondary characters, from Dido's dour sister-in-law to an opium-eating poet, lend color."
—Publishers Weekly

"Dean has again scored highly with an imaginative mystery that captures Regency England not only with Austen-like prose but, more importantly, with an accurate portrayal of the customs and challenges of the time, particularly as they involved the suspicion cast upon women with minds of their own."
—Richmond Times-Dispatch

"As the book-jacket blurb suggests, Miss Dido Kent's sleuthing sensibilities will bring to mind a heady mix of a Miss Marple created by Jane Austen. Set in 1806 England, this third Regency adventure involves a visit to an abandoned abbey on an estate where the Grey Nun of Madderstone is alleged to be the resident ghost.
Dido puts no stock in the occult but when her friend, the beauteous Penelope, is badly injured in a fall at the abbey but manages to mutter, "I saw her…" before lapsing into unconsciousness, her beliefs are tested. The unearthing of a skeleton at the allegedly haunted abbey provides further complications.
Dean has created a most delightful sleuth of style and substance, outwardly staid but subtly opposing the prejudices of the period. This mystery of manners aptly captures the mores of early 19th-century English society at its most hypocritical, revealed to readers through personal correspondence and occurrences surrounding the mystery. Proper ladies are supposed to tend to their embroidery and not see ghosts or solve murders. Dean succeeds with Dido's latest adventure admirably, even adding an ongoing romance to the proceedings."
—Mystery Scene

"This is the third in Dean's Dido Kent engaging historical series set in England. Miss Kent, an unmarried woman of a certain age, referred to as a spinster in her time, is writing to her sister, Eliza, as the book opens. She's trying to give Eliza an account of Penelope Lambe's accident, but her sister-in-law, pointedly and repeatedly reminds her that she is dependent on her brother's hospitality—a cold garret room—and there is mending to do. Margaret, the sister-in-law, continues to interrupt the letter writing throughout the story, but Dido manages to clearly relate her feelings to her sister—and to us.
In between, we witness the strange goings on at Madderstone Abbey, the ghost of the Grey Nun, mysterious lights in the ruins, and the annoying Crockford sisters Lucy and Harriet, who are visiting the Harman-Footes of Madderstone, along with their good friend Penelope. Penelope hasn't yet recovered from her fall at the ruins when a skeleton is found in a recently drained pool. Dido engages to find out who the skeleton is and how she died, not believing the conclusions of the local experts.
A trip to Bath and the attentions of the handsome Mr. Lomax, endeavor to keep Dido from her enquiries. She is also thwarted by Captain Laurence, a man she considers coarse and "altogether more masculine" than a man should be.
The historical aspect is just right. For me, the language was authentic to the period, but not stilted and difficult to read, as can happen in historicals that strive for accuracy. I hope for many more Dido Kent investigations."
—Reviewed by Kaye George, author of "Choke" for Suspense Magazine

Praise for A Gentleman of Fortune

"With its engaging characters and stories of substance, this compelling series will give enjoyment to fans of Anne Perry, Agatha Christie, or Deanna Raybourn." —Library Journal

"The plight of a gentleman raised in luxury yet entirely dependent on the good will of elderly relatives will resonate with fans of Jane Austen's Emma." —Publishers Weekly

"Delightful. The clever puzzle and pitch-perfect Regency prose will charm readers."—Kirkus Reviews (starred review)

"With a surfeit of suspects, an ingenious solution, and a clever and sympathetic heroine in Dido, Dean has crafted an elegant historical mystery." —Richmond Times-Dispatch (Virginia)
Advertisement