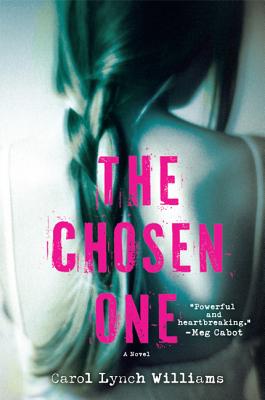 The Chosen One (Paperback)
Griffin, 9780312627751, 234pp.
Publication Date: August 31, 2010
* Individual store prices may vary.
Description
Carol Lynch Willams' The Chosen One is a dazzling novel about a young teenager's rebellion from the polygamist cult that would have her become the seventh wife to her 60-year-old uncle
Thirteen-year-old Kyra has grown up in an isolated community without questioning the fact that her father has three wives and she has twenty brothers and sisters, with two more on the way. That is, without questioning them much---if you don't count her secret visits to the Mobile Library on Wheels to read forbidden books, or her meetings with Joshua, the boy she hopes to choose for herself instead of having a man chosen for her.
But when the Prophet decrees that she must marry her sixty-year-old uncle---who already has six wives---Kyra must make a desperate choice in the face of violence and her own fears of losing her family forever.
About the Author
Carol Lynch Williams is the author of young adult novels including Miles from Ordinary. The Chosen One was named one of 2010 ALA's "Quick Picks for Reluctant Young Adult Readers" and "Best Books for Young Adult Readers." It also won the Whitney and the Association of Mormon Letters awards for the best young adult fiction of the year, as well as numerous other honors. Williams was the winner of the 2009 PEN/Phyllis Naylor Working Writer Fellowship. She grew up in Florida and now lives in Utah.
Praise For The Chosen One…
"Powerful and heartbreaking." --Meg Cabot

"The Chosen One makes the heart race, the teeth grind, and the brow bead up in sweat." --Gregory Maguire, author of Wicked

"Absolutely riveting . . . a wonderful book." --Cynthia Kadohata, author of Kira-Kira

"Truly thought-provoking, heartfelt, and just a plain old good read." --An Na, author of A Step from Heaven

"Extraordinary . . . brave . . . a masterpiece." --Kathi Appelt, author of The Underneath

"Beautiful, compassionate, and full of hope." --Sara Zarr, author of Story of a Girl

"Writing young adult fiction is a tricky endeavor, for the reader walks a fine line between juvenile and adult worlds. A successful book of this genre must tread ever so carefully on the line that separates interesting and evocative from inappropriate. It must provoke thought without being overly explicit. No easy feat when the subject matter is polygamy. The Chosen One serves as a fine example of handling such a difficult issue deftly ... Kyra's story is not easily forgotten and offers up ancillary topics such as the importance of libraries, the subjugation of women and the dangers of extremist fundamentalism, to name just a few." --BJ Hegedus, BookBrowse.com