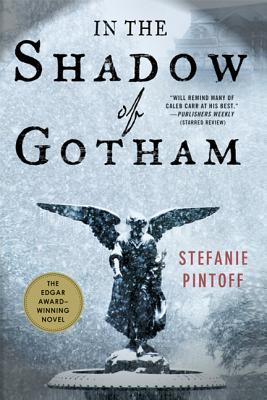 In the Shadow of Gotham (Detective Simon Ziele #1) (Paperback)
Minotaur Books, 9780312628123, 400pp.
Publication Date: May 11, 2010
Other Editions of This Title:
Hardcover (4/28/2009)
* Individual store prices may vary.
Description
Dobson, New York, 1905.
Detective Simon Ziele lost his fiancée in the General Slocum ferry disaster—a thousand perished on that summer day in 1904 when an onboard fire burned the boat down in the waters of the East River. Still reeling from the tragedy, Ziele transferred to a police department north of New York, to escape the city and all the memories it conjured.
But only a few months into his new life in a quiet country town, he's faced with the most shocking homicide of his career to date: Young Sarah Wingate has been brutally murdered in her own bedroom in the middle of an otherwise calm and quiet winter afternoon. After just one day of investigation, Simon's contacted by Columbia University's noted criminologist Alistair Sinclair, who offers a startling claim about one of his patients, Michael Fromley—that the facts of the murder bear an uncanny resemblance to Fromley's deranged mutterings.
But what would have led Fromley, with his history of violent behavior and brutal fantasies, to seek out Sarah, a notable mathematics student and a proper young lady who has little in common with his previous targets? Is Fromley really a murderer, or is someone mimicking him?
This is what Simon Ziele must find out, with the help of the brilliant but self-interested Alistair Sinclair—before the killer strikes again.
With this taut, atmospheric, and original story of a haunted man who must search for a killer while on the run from his own demons, Stefanie Pintoff's In the Shadow of Gotham marks the debut of an outstanding new talent, the inaugural winner of the Minotaur Books/Mystery Writers of America Best First Crime Novel Competition.
In the Shadow of Gotham is the winner of the 2010 Edgar Award for Best First Novel.
About the Author
Stefanie Pintoff is the author of A Curtain Falls, In the Shadow of Gotham, and Secret of the White Rose. In the Shadow of Gotham is the winner of the 2010 Edgar Award for Best First Novel and the Washington Irving Book Prize, and she has earned nominations for the Agatha, Anthony and Macavity Awards. She is also a graduate of Columbia University Law School and has a Ph.D. in literature from New York University. Now a full-time writer, she lives with her husband and daughter on Manhattan's Upper West Side.
Praise For In the Shadow of Gotham (Detective Simon Ziele #1)…
"Will remind many of Caleb Carr at his best." —Publishers Weekly (starred review)
"The author has inevitably been compared to Caleb Carr. . . . She does an outstanding job of blending historical detail with engaging characters and a suspenseful plot." —The Denver Post
"Pintoff excavates a rich vein of early criminology. . . . She also delivers a gripping detective story." —Booklist
"Nicely contrasts academic theorizing with the reality of police detection set against the backdrop of a vividly depicted turn-of-the-century Gotham. Recommend to readers who enjoy historicals of this period, such as Caleb Carr's The Alienist and Ann Stamos's Bitter Tide." —Library Journal (starred review)
or
Not Currently Available for Direct Purchase