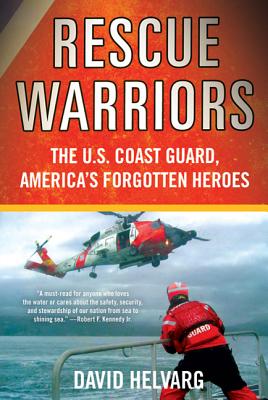 Rescue Warriors
The U.S. Coast Guard, America's Forgotten Heroes
Paperback

* Individual store prices may vary.
Other Editions of This Title:
Hardcover (5/12/2009)
Description
The Extraordinary Story Of The U.S. Coast Guard
Since its inception more than 200 years ago, the United States Coast Guard has rescued over 1.1 million people. Yet, despite having more than fifty thousand active and reserve members, most of us know very little about this often neglected but crucial branch of the U.S. military.
Filled with altruism and adrenaline, Rescue Warriors brings us into the daily lives of "Coasties" as well as dozens of death-defying rescues at sea and on hurricane-ravaged shores. A masterpiece of adventure reporting, Rescue Warriors is the definitive book on America's Coast Guard.
Praise For Rescue Warriors: The U.S. Coast Guard, America's Forgotten Heroes…
"A must-read for anyone who loves the water or cares about the safety, security, and stewardship of our nation from sea to shining sea." —Robert F. Kennedy Jr.
"This is the first book to give a comprehensive look at America's premier lifesavers and forgotten Armed Service." —Anchorage Daily News
"Readers will agree with the author that the Coast Guard is the only American military service that needs more money and publicity." —Kirkus Reviews
"They say that 'I'm from the government and I'm here to help' is the ultimate oxymoron. But as this vivid book makes powerfully clear, in the case of the Coast Guard it's the simple truth. Stow this volume next to the chart case." —Bill McKibben, author of Deep Economy
St. Martin's Griffin, 9780312628147, 384pp.
Publication Date: May 11, 2010
About the Author
David Helvarg is founder and president of the Blue Frontier Campaign, a Washington, D.C.-based non-profit working on ocean and coastal conservation issues. An award-winning journalist, he has written for the New York Times, the Los Angeles Times, Smithsonian, Popular Science, Sierra, and The Nation, and has produced more than forty documentaries for PBS, the Discovery Channel, and others. He is also a licensed private investigator, body surfer, and scuba diver. The author of The War Against the Greens, Blue Frontier, and 50 Ways to Save the Ocean, he lives near San Francisco Bay.