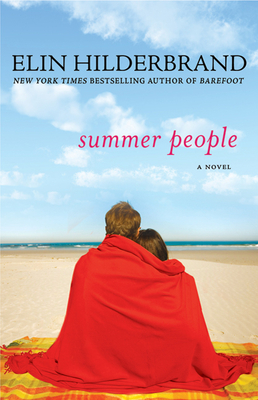 Summer People (Paperback)
Griffin, 9780312628277, 337pp.
Publication Date: April 27, 2010
Description
Summer People by Elin Hilderbrand
Every summer the Newton family retreats to their beloved home on Nantucket for three months of sunshine, cookouts, and bonfires on the beach. But this summer will not be like any other. When Arch Newton, a prominent New York attorney, dies in a plane crash on his way home from a business trip, his beautiful widow, Beth, can barely keep things together. Above all, though, she decides that she must continue the family tradition of going to Nantucket, and at the same time fulfill a promise that Arch made before he died.
Beth invites Marcus, the son of Arch's final and most challenging client, to spend the summer with her and her teenage twins, Winnie and Garrett, who have mixed reactions to sharing their special summer place with this stranger. Always a place of peace before, Nantucket becomes the scene of roiling emotions and turbulent passions as Marcus, Winnie, and Garrett learn about loss, first love, and betrayal. And when they stumble upon a shocking secret from Beth's past, they must keep it from destroying the family they've been trying so hard to heal
About the Author
Elin Hilderbrand is the author of The Island, Nantucket Nights, and The Blue Bistro, among others. She grew up in Collegeville, Pennsylvania, and is a graduate of Johns Hopkins University and the University of Iowa Writers' Workshop, where she was a teaching/writing fellow. Her short fiction has appeared in Seventeen, The Massachusetts Review, and The Colorado Review. She lives with her husband, Chip Cunningham, and their two sons in Nantucket, Massachusetts.
Praise For Summer People…
"Things get more twisted at every turn, with enough lies and betrayals to fuel a whole season of soap operas...readers will be hooked."--Publishers Weekly
"Hilderbrand's third Nantucket-set novel effectively juxtaposes the surface calm of the season with the turbulence of the characters' lives. More entertaining beach reading from the author of The Beach Club and Nantucket Nights."--Booklist
"Summer People is striking not only for the ingenuity of its riveting plot, but also for the acute sense of character and the finely tuned craftsmanship with which Elin Hilderbrand brings its every nuance to life." --Madison Smartt Bell, author of Charm City
"I find there is so much to admire in this book, from its crystalline prose to the deeply felt and finely rendered emotion of characters younger and older, male and female alike. By the end, the characters feel like good friends. Reading
Summer People
makes you feel like you've taken a long weekend in Nantucket.
Summer People
is simply a great read." --Kathleen Hughes, author of
Dear Mrs. Lindbergh: A Novel
Advertisement