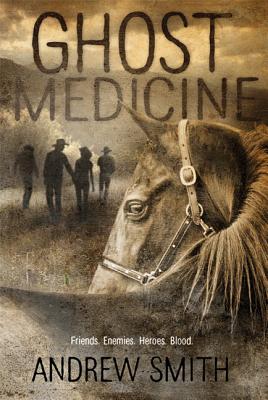 Ghost Medicine (Paperback)
Square Fish, 9780312629120, 357pp.
Publication Date: November 9, 2010
Description
The summer before Troy Stotts turns seventeen, his mother dies. Communicating with his father mostly by notes, Troy spends his time with his friends: Tom Buller, brash and fearless; Gabe Benavidez, smart enough to know he'll never take over the family ranch; and Gabe's sister, Luz, who Troy has loved since they were children. They want this to be the summer of "ghost medicine," when time seems to stop, and they can hide from the past and the future, and all the ghosts that come with them. Troy and his friends don't want trouble, but as the summer fills with dangerous and fateful encounters, can even the most powerful ghost medicine keep them hidden and safe?
About the Author
Andrew Smith is the author of The Marbury Lens, named an American Library Association Best Book for Young Adults, and In the Path of Falling Objects. In addition to writing, he teaches high school advanced placement classes and coaches rugby. He lives in Southern California with his family, in a rural location in the mountains.
Praise For Ghost Medicine…
"A pitch-perfect coming-of-age tale destined to be held aloft alongside other classics of young adult literature. The story flows like stark, lovely poetry shared by best friends around a mountainside campfire."—Voice of Youth Advocates
"Smith's first novel, a deceptively simple coming-of-age story, defies expectations via its sublime imagery and its elliptical narrative structure."—Publishers Weekly, Starred Review
"Troy wishes to be lost, but his greatest hope is to be found, and Ghost Medicine beautifully captures that paradox in this timeless and tender coming-of-age story. Not only will it inspire readers to prod the boundaries of their own courage, but it will also remind them that life and love are precious and fleeting."—School Library Journal
"The slowly building narrative gathers the heart-wrenching moments together to create a fully engrossing tale. . . . Troy's attempts at invisibility contrast with other characters' desire for recognition and fatherly approval. . . . Smith canters to a satisfying finish."—Kirkus Reviews
A YALSA 2009 Best Books for Young Adults Selection
Advertisement