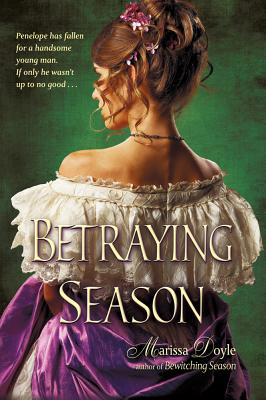 Betraying Season (Paperback)
Square Fish, 9780312629168, 336pp.
Publication Date: September 28, 2010
Other Editions of This Title:
Hardcover (9/29/2009)
* Individual store prices may vary.
Description
Penelope Leland has come to Ireland to study magic and prove to herself that she is as good a witch as her twin sister, Persy. But when the dashing Niall Keating begins to court her, Pen can't help being distracted from her studies. Little does Pen know, Niall is acting upon orders from his sorceress mother. And although it starts as a sham, Niall actually falls deeply in love with Pen, and she with him. Even if he halts his mother's evil plan, will Pen be able to forgive him for trying to seduce her into a plot?
About the Author
Marissa Doyle graduated from Bryn Mawr College intending to be an archaeologist, but she somehow got distracted. When not writing historical YA and fantasy for adults and kids, she's sailing on Cape Cod, quilting, or collecting 19th century fashion prints. She lives in her native Massachusetts with her family, an alarming number of research books, and a highly opinionated fourteen-pound lop-eared rabbit who shares her fondness for coffee and dark chocolate. She is the author of the young adult historical fantasies Bewitching Season, Betraying Season, and Courtship and Curses. 
Praise For Betraying Season…
"As in the previous book, this is a full-bodied story that wonderfully combines elements of romance, fantasy, and history. . . . Whether Doyle is describing the Irish countryside, a magical incantation, or a lover's kiss, her writing is compelling, and it will be hard for readers not to be swept away by this invigorating story." —Booklist
"The mixture of historical detail and magic makes this bodice-ripper another page-turner." —Kirkus Reviews