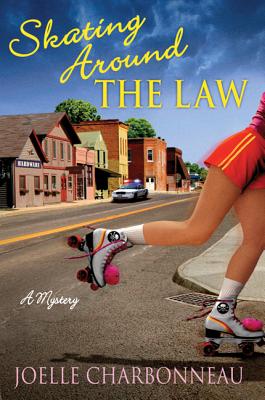 Skating Around the Law (Hardcover)
A Mystery (Rebecca Robbins Mysteries #1)
Minotaur Books, 9780312629809, 274pp.
Publication Date: September 28, 2010
Description
Rebecca Robbins is a woman on a mission---to sell the roller rink she inherited from her mother and get back to Chicago. Fast. However, when she discovers the dead body of the town's handyman headfirst in a rink toilet, potential buyers are scared off. Now Rebecca is stuck in a small town where her former neighbors think she doesn't belong, living with her scarily frisky grandfather, Pop, and relying on a police department that's better at gardening than solving crimes.
Eager to move forward with her life, Rebecca begins investigating the murder herself, reluctantly accepting help from Pop and his extensive social network, which includes a handsome veterinarian and a former circus camel named Elwood. Nevertheless, someone isn't happy she's looking into the case, and their threats will have her questioning whether playing sleuth was such a good idea after all.
Joelle Charbonneau's debut is a sheer delight---a laugh-out-loud mystery with plenty of heart.
About the Author
Joelle Charbonneau has worked as a professional singer and actress and currently is a private voice instructor. Joelle lives with her husband and toddler son in Illinois.
Praise For Skating Around the Law: A Mystery (Rebecca Robbins Mysteries #1)…
"Rebecca's investigative work is clever and offbeat."--Chicago Sun-Times "Funny and sexy, with a teasing mystery. Janet Evanovich fans will find Charbonneau's debut a good fix while they're waiting for Stephanie Plum's latest."--Kirkus Reviews "Roller skates and crime don't mix, or do they? In Charbonneau's fresh, funny debut they most certainly do."--Publishers Weekly
"Joelle Charbonneau with her debut novel shows she knows how to craft a great mystery and she has wonderful timing, which she uses deftly in this small town murder story.  Rebecca Robbins is a character that is hard not to love, funny, smart and an amateur detective who can think on her feet, or skates.  Pick this up, you'll enjoy it." --Crimespree Magazine "Let Joelle Charbonneau skate into your imagination with a sparkling mystery featuring a spirited heroine and a small town populated with lively characters. Joelle is a charmer of a writer."--New York Times bestselling author Susan Elizabeth Phillips  



A country-born urbanite's return to the big city is delayed by murder.

Rebecca Robbins has come back from Chicago to Indian Falls, Ill., to sell the roller rink that was her mother's pride and joy. When she finds handyman Mack Murphy's corpse, his head in a toilet at the rink, her plans for a quick escape are shattered. The sheriff hopes for a verdict of suicide, but when the autopsy reveals a drug in Murphy's system that could have caused disorientation, Doc Truman votes for murder. Since the sheriff is more interested in gardening than sleuthing, Rebecca starts snooping around with help from her zany grandfather, who's suddenly become the town Romeo. A meeting with hunky veterinarian Lionel Franklin and his hat-wearing camel Elwood strikes sparks so strong that Rebecca has to remind herself that she wants to return to Chicago. Soon enough, the case heats up. Murphy had been acting very strangely recently, and his angry clients make excellent suspects. Rebecca starts getting threat



Rebecca Robbins has come home to Indian Falls, to the roller rink she inherited from her mother, intending to sell it and return to her life as a mortgage broker in Chicago. However, when she finds handyman Mack dead in one of the rink's restroom stalls, it puts a crimp in prospects of a sale. The sheriff prefers to concentrate on his gardening, so Rebecca decides it's up to her to solve the case, which means delving into Mack's secrets. She also has to deal with people in town who treat her as an outsider, with her sexually frisky grandfather, with a handsome hunk of a veterinarian and his retired circus camel, and with a boss in Chicago who thinks he's got "dibs" on her. Charbonneau's debut mystery has much that is familiar, with its small-town setting and hints of romance, but her quirky characters, the roller rink, and the side plot involving Mack's secret business add fun touches. And, of course, readers will love Elwood the camel.
Advertisement