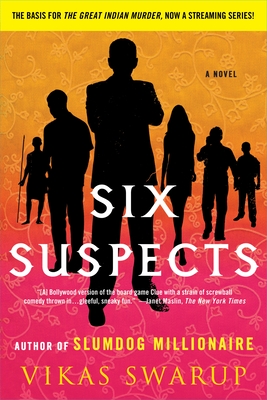 Six Suspects (Paperback)
Minotaur Books, 9780312630737, 470pp.
Publication Date: August 17, 2010
Description
From the author of the" New York Times "bestseller "Slumdog Millionaire" comes a richly textured social thriller.
Seven years ago, Vivek "Vicky" Rai, the playboy son of the home minister of Uttar Pradesh, murdered bartender Ruby Gill at a trendy restaurant in New Delhi, simply because she refused to serve him a drink. Now Vicky Rai has been killed at the party he was throwing to celebrate his acquittal. The police arrest six guests with guns in their possession: a corrupt bureaucrat who claims to have become Mahatma Gandhi; an American tourist infatuated with an Indian actress; a Stone Age tribesman on a quest; a Bollywood sex symbol with a guilty secret; a mobile-phone thief who dreams big; and an ambitious politician prepared to stoop low.
Swarup unravels the lives and motives of the six suspects, offering both a riveting page-turner and an insightful look into the heart of contemporary India.
About the Author
Vikas Swarup's first novel was translated into over forty languages and made into the Oscar Award-winning film Slumdog Millionaire. An Indian diplomat, Vikas is currently serving as Consul-General in Osaka, Japan.
Praise For Six Suspects…
"[A] Bollywood version of the board game Clue with a strain of screwball comedy thrown in...
[A]lthough the story's geographical span is even bigger than India, the whole thing feels handily confined to the kind of isolated, air-tight setting that Agatha Christie's readers love. Thanks to such a schematic setup 'Six Suspects' is gleeful, sneaky fun….Mr. Swarup, an Indian diplomat, brings a worldly range of attributes to his potentially simple story. [His] style stays light and playful, preferring to err on the side of broad high jinks rather than high seriousness. A fizzy romp seems to be the main thing he has in mind.  Oddly enough, that ambition turns this formulaic-sounding book into a refreshing oddity. It bears no resemblance to any of the cookie-cutter genre books of this season."—Janet Maslin, The New York Times

"Charming, atmospheric, and driven equally by character and plot, Six Suspects is bound to be popular with traditional mystery fans and readers of international crime fiction, as well as the legion of Slumdog devotees. Highly recommended."--Booklist (starred review)
"Enriched by the sights and smells of contemporary India, this mystery shows Swarup to be a skillful prose stylist and deft handler of plot, who's likely to win more readers."--Library Journal

"The author of Slumdog Millionaire has another blockbuster of a story that begins with a murder, then delves into the lives and motives of the six suspects. The reader becomes intimately involved with each suspect while being treated to an eye-opening account of life in India."--Romantic Times BOOKreviews (4 1/2 stars)

"The author of Q&A (2005), the novel that became the film Slumdog Millionaire, returns with an equally high-concept tale that uses a murder investigation to launch a riotous tour of contemporary India…a teeming, beguiling Indian panorama wrapped in a clever whodunit."—Kirkus Reviews
Reviled playboy, industrialist, son of India's home minister, and recently acquitted murderer Vicky Rai is shot in cold blood at his own celebration bash, and six suspects are rounded up, all carrying guns. If Agatha Christie wrote a mystery about modern India, it might be something like this, as each of the six suspects is profiled by an investigative journalist. How did they end up at Vicky's party? Why does each one have a motive to kill him? Why are they all carrying guns? Swarup, author of Q&A (2005), the novel on which Slumdog Millionaire was based, gradually reveals the answers to each of these questions through lengthy and detailed case studies of the suspects: a Bollywood actress, an American tourist from Texas, a tribal member from the Andaman Islands, a corrupt bureaucrat who claims to be Gandhi, a mobile-phone thief from the slums, and Vicky's own father, an ambitious and ruthless politician.
Charming, atmospheric, and driven equally by character and plot, Six Suspects is
Advertisement