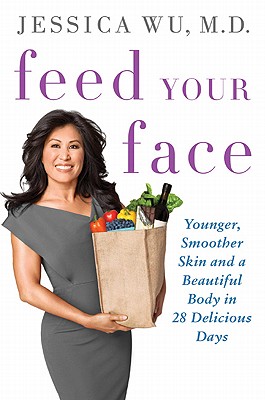 Feed Your Face
Younger, Smoother Skin and a Beautiful Body in 28 Delicious Days
Hardcover

* Individual store prices may vary.
Other Editions of This Title:
Paperback (12/20/2011)
Description
Tired of wasting hundreds of dollars on expensive wrinkle creams, drying lotions, and zit-zappers that just don't work? Well listen up, ladies. To really get gorgeous, you've got to change the way you feed your face. 
Cosmetics companies, women's magazines—heck, even most doctors—will swear that food doesn't affect the skin. But celebrity dermatologist Dr. Jessica Wu knows that's just not true. After years spent battling her own pimple-prone, "problem" skin (not to mention caring for some of Hollywood's most famous faces), she's learned that what you eat has everything to do with the condition of your complexion.
Packed with patient testimonials, un-retouched before and after photos, and celebrity anecdotes from stars like Katherine Heigl, Maria Bello, Kimora Lee Simmons, and Lisa Ling, FEED YOUR FACE is an easy-to-follow, 28-day diet plan that will help you banish blemishes, wipe out wrinkles, shed unwanted pounds, and generally feel better—in your clothes and in your skin. Along the way, Dr. Wu will dish the dirt on her journey from Harvard Medical School to the glamorous Hollywood Hills, while offering realistic, practical beauty and diet advice for women of all ages.
Want to soften your crow's-feet? Find out which foods will turn back time.
Plagued by pimples? Discover the snacks that will erase stubborn blemishes.
Did you know milk doesn't always do a body good?
Feel a sunburn coming on? Learn why red wine may save your skin from peeling and flaking.
What does a hard-partying rock star eat for good skin?
So stop thinking about food in terms of what you can't have: no butter, no red meat, no fat, and no flavor. Instead, discover the foods that will keep you feeling full and looking gorgeous. Follow the FEED YOUR FACE Diet, and you can have pizza. You can go out for Italian, indulge in Chinese takeout, and dine at The Cheesecake Factory (with the help of the FEED YOUR FACE Restaurant Guide). Because you do have the power to change your skin. All you have to do is eat.
Praise For Feed Your Face: Younger, Smoother Skin and a Beautiful Body in 28 Delicious Days…
"The key to looking younger - as I have learned from Dr. Wu - isn't copious amounts of Botox or even plastic surgery, it's a diet that will improve your skin from the inside out, as her Feed Your Face Diet has done for me. My skin looks radiant, smooth, and ten years younger."
- Maria Bello, actress "Dermatologist-to-the-stars Wu's first book is packed with helpful tips. Dense but highly readable, the tome is split into four sections: a look at our largest organ, the skin; a guide to skin disorders accompanied by Wu's insights into foods both helpful and harmful for treating them; four weeks' worth of menu suggestions; and a quickie primer to homemade skincare products. Wu also includes a guide to Botox and other small-scale surgical interventions. The author is refreshingly honest and approachable. She enjoys having a tan, for instance, and doesn't see the point in telling her patients to wear long sleeves outdoors at any hour of the day. Though urging readers to eat organic, minimally-processed food is hardly a breakthrough, Wu's case for doing so is well-explained and easy to implement. The calm, sensible approach she takes here will be appreciated by anyone in search of perfect--or at least better--skin."
- Publishers Weekly
St. Martin's Press, 9780312630775, 384pp.
Publication Date: February 1, 2011
About the Author
Dr. Jessica Wu is a graduate of Harvard Medical School, an Assistant Clinical Professor at USC Medical School, and a board-certified dermatologist. When she's not helping Hollywood's A-list get red-carpet ready, she's dishing up advice as the Skin and Beauty Expert on EverydayHealth.com, and spilling skin care secrets on national television shows such as "The Doctors, Good Morning America, Entertainment Tonight," and E! Entertainment Television. She lives in Los Angeles with her husband.
or
Not Currently Available for Direct Purchase