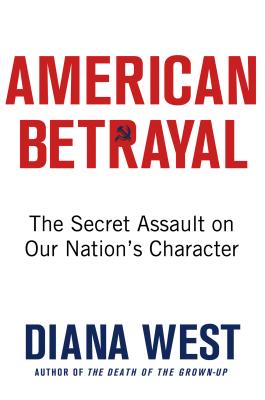 American Betrayal: The Secret Assault on Our Nation's Character (Hardcover)
The Secret Assault on Our Nation's Character
St. Martin's Press, 9780312630782, 403pp.
Publication Date: May 28, 2013
* Individual store prices may vary.
or
Not Currently Available for Direct Purchase
Description
In "The Death of the Grown-Up, " Diana West diagnosed the demise of Western civilization by looking at its chief symptom: our inability to become adults who render judgments of right and wrong. In "American Betrayal, "West digs deeper to discover the root of this malaise and uncovers a body of lies that Americans have been led to regard as the near-sacred history of World War II and its Cold War aftermath.
Part real-life thriller, part national tragedy, "American Betrayal" lights up the massive, Moscow-directed penetration of America's most hallowed halls of power, revealing not just the familiar struggle between Communism and the Free World, but the hidden war between those wishing to conceal the truth and those trying to expose the increasingly official web of lies.
"American Betrayal" is America's lost history, a chronicle that pits Franklin Delano Roosevelt, Harry Truman, Dwight David Eisenhower, and other American icons who shielded overlapping Communist conspiracies against the investigators, politicians, defectors, and others (including Senator Joseph McCarthy) who tried to tell the American people the truth.
"American Betrayal" shatters the approved histories of an era that begins with FDR's first inauguration, when "happy days" are supposed to be here again, and ends when we "win" the Cold War. It is here, amid the rubble, where Diana West focuses on the World War II--Cold War deal with the devil in which America surrendered her principles in exchange for a series of Big Lies whose preservation soon became the basis of our leaders' own self-preservation. It was this moral surrender to deception and self-deception, West argues, that sent us down the long road to moral relativism, "political correctness," and other cultural ills that have left us unable to ask the hard questions: Does our silence on the crimes of Communism explain our silence on the totalitarianism of Islam? Is Uncle Sam once again betraying America?
In "American Betrayal, " Diana West shakes the historical record to bring down a new understanding of our past, our present, and how we have become a nation unable to know truth from lies.
About the Author
Diana West is the author of "The Death of the Grown-Up" and coauthor of "Shariah: The Threat to America." West's essays have appeared in numerous publications, and her weekly newspaper column is syndicated by Universal Uclick. She is the Washington correspondent for "Dispatch International."
Praise For American Betrayal: The Secret Assault on Our Nation's Character…
"Diana West masterfully reminds us of what history is for: to suggest action for the present. She paints for us the broad picture of our own long record of failing to recognize bullies and villains. She shows how American denial today reflects a pattern that held strongly in the period of the Soviet Union. She is the Michelangelo of Denial."-- Amity Shlaes, author of Coolidge and the NYT bestseller The Forgotten Man: A New History of the Great Depression
"This explosive book is a long-needed answer to court histories that continue to obscure key facts about our backstage war with Moscow. Must-reading for serious students of security issues and Cold War deceptions, both foreign and domestic."-- M. Stanton Evans, author of Blacklisted by History
"If you haven't read Diana West's "American Betrayal" yet, you're missing out on a terrific, real-life thriller."-- Brad Thor, author of the New York Times bestsellers Black List, Full Black, and The Last Patriot.
"What Diana West has done is to dynamite her way through several miles of bedrock. On the other side of the tunnel there is a vista of a new past. Of course folks are baffled. Few people have the capacity to take this in. Her book is among the most well documented I have ever read. It is written in an unusual style viewed from the perspective of the historian—but it probably couldn't have been done any other way."—Lars Hedegaard, historian, editor, Dispatch International
"Her arguments shred our preconceived notions of twentieth century history."—Jeff Minick, Smoky Mountain (NC) News
"American Betrayal is a monumental achievement. Brilliant and important."--Monica Crowley
"Diana West's new book rewrites WWII and Cold War history not by disclosing secrets, but by illuminating facts that have been hidden in plain sight for decades. Furthermore, she integrates intelligence and political history in ways never done before."--Jeffrey Norwitz, former professor of counterterrorism, Naval War College
"Enlightening. I give American Betrayal five stars only because it is not possible to give it six."--John Dietrich, formerly of the Defense Intelligence Agency and author of The Morgenthau Plan: Soviet Influence on American Postwar Policy.
"American Betrayal is not simply a good book about history. It is one of those books which makes history."--Vladimir Bukovsky and Pavel Stroilov, Breitbart News
"Every once in a while, something happens that turns a whole structure of preconceived ideas upside down, shattering tales and narratives long taken for granted, destroying prejudice, clearing space for new understanding to grow. Diana West's latest book, American Betrayal, is such an event."--Henrik Raeder Clausen, Europe News
Advertisement