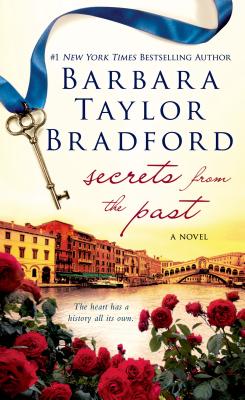 Secrets from the Past (Mass Market Paperbound)
St. Martin's Press, 9780312631673, 396pp.
Publication Date: October 29, 2013
* Individual store prices may vary.
or
Not Currently Available for Direct Purchase
Description
"Secrets from the Past "is an epic, emotional novel of deeply-buried secrets, passionate love, obsession, and redemption from blockbuster bestselling author Barbara Taylor Bradford
At thirty years old, American photojournalist Serena Stone has already made a name for herself with her dramatic coverage of wars in the Middle East, following in her famous father's footsteps. But after his unexpected death in France, Serena leaves the front lines behind, weary of years of danger. Back in New York, she begins work on a biography of her celebrated father. When Serena discovers that her former lover, Zachary North, is in trouble overseas, she's forced to leave the safety of her new life and head back to a place she was trying to escape and her life will never again be the same. As she brings Zac back to health in Venice, she discovers a shocking secret in the archives of her late father's work one that will propel her back to war-torn Libya, where she will risk everything to piece together the mystery surrounding her parents' marriage and the part of their life together that she never knew.
"Every novel from this acclaimed and beloved author is avidly read and will prove irresistible." "Booklist.
About the Author
BARBARA TAYLOR BRADFORD was born and brought up in England, and started her writing career as a journalist. She has written twenty-seven international bestsellers. Secrets from the Past is her twenty-eighth novel. In 2007, Queen Elizabeth awarded her the Order of the British Empire for her literary achievements. She lives in New York with her husband, TV and film producer Robert Bradford.
Praise For Secrets from the Past…
PRAISE FOR BARBARA TAYLOR BRADFORD
LETTER FROM A STRANGER
"Every novel from this acclaimed and beloved author is avidly read, and its engrossing historical dimensions, family traumas, romance, and vivid settings will prove irresistible."
—Booklist  
"Loyal fans will tear up at the descriptions of enduring friendship and familial love."
—Publishers Weekly
PLAYING THE GAME
 "Vintage Bradford, with lavish descriptions of the pleasures of palate and palette, victims as virtuous as they are gorgeous, [and] cruel Lotharios."—Kirkus Reviews
 "Scintillating…plenty of intrigue, secrets, and steamy encounters."—Booklist
"A page-turning plot that keeps you gripped through all of its 448 pages."—Sunday Express
BREAKING THE RULES
"Satisfies on the fashion-and-passion front… at the heart of the action stands a determined heroine" —Publishers Weekly
"A sprawling novel…readers will be happy to dwell in the glamorous world of Bradford's sophisticated characters."—Booklist
"Spellbinding."—Complete Woman
"For the thirtieth anniversary of A Woman of Substance, Bradford has written a marvelous spin-off with all the drama, glamour, and romance readers expect. With a twenty-first-century woman of substance and characters from the Harte series, this nonstop read has it all."—RT Book Reviews
…AND THE NOVELS IN THE RAVENSCAR SERIES
"Her most exciting series yet...It's filled with romance, suspense and intrigue, and the richly detailed characters come vibrantly alive as expert pacing captures your attention from the very first page."—RomanticTimes BOOKreviews, Top Pick
"Rife with dastardly internecine struggles, smoldering illicit passion, and cowardly insidious betrayals…[the Deravenels] pack as much intrigue as any Shakespearean royal drama."
—Booklist on Being Elizabeth
"The queen of the bestseller list still rules with The Heir."—Miami Herald
"Bestseller Bradford's dynastic epic spanning the 20th century should tide over her fans…"
—Publishers Weekly
"Bradford's characters are so real, readers clamor to know them better."—USA Today
"This expertly crafted epic novel further explores the triumphs and tragedies of the Deravenel family. It will enthrall readers with its vivid characters and fast-paced, larger-than-life plot."
—Romantic Times BOOKreviews (4 ½ stars) on The Heir
"The Ravenscar Dynasty has it all—power, betrayal, mystery...The characters are all complex, dynamic, and powerful, leading us through Edward Deravenel's struggles one exciting step at a time."—Romance Reviews Today
"Bradford's fiction has long focused on strong heroines who succeed against great odds. Her latest novel, The Ravenscar Dynasty...is the first of a planned trilogy of novels, all destined for best-sellerdom."—Seattle Post-Intelligencer
…AND HER ACCLAIMED HARTE SAGA
"The Harte saga is as much a force of nature as a work of fiction…the issues at stake still compel readers after 25 years. Bradford understood early on readers' hunger for depictions of women who are strong and powerful and whose values embrace family. A quarter-century ago, Emma Harte crossed the no-woman's-land that once divided family and business, and now generations of readers consider her a role model in their own lives."—The Washington Post
"A truly remarkable conclusion to her beloved Harte family saga…riveting and intense. Not many novels have the ability to completely immerse the reader, but this one draws you into the story from the very first page."—Romantic Times BOOKreviews on Just Rewards
"Bradford gives her readers more of what she does best—strong, savvy female protagonists who relentlessly pursue great destinies, characters much like the author herself…well-written and full of emotion…completely riveting…the plot, while always complex, has suspenseful moments to keep the pace sharp…good reading…Unexpected Blessings clearly shows why Bradford is still the premier writer of family sagas."—Miami New Times
"The exploits and adventures of Bradford's indomitable heroines continue to make for lusty escapist fiction in this robust fifth novel in the series."—Publishers Weekly on Unexpected Blessings
"The enduring theme of family loyalty ennobles the Harte family saga and raises it to a heartwarming crescendo that longtime fans will appreciate."—Book Page
"Readers who loved A Woman of Substance will enjoy Emma's Secret."—Denver Post
"In her 19th novel, the grande dame of mass-market fiction revisits her first heroine—the indomitable Emma Harte."—New York Daily News on Emma's Secret
"So many of us turn to novels like Barbara Taylor Bradford's…for our daily dose of amour."—Woman's Day Magazine
"Promises to tantalize, mesmerize, and titillate readers of all ages. It has all the Bradford touches: strong and swift plot, hints of secrets about to be revealed…spellbinding."—Roanoke Times
"A novel for everyone…A satisfying, lushly detailed saga."—Rave Reviews on To Be the Best
"A master storyteller and character builder, Ms. Bradford again crafts another reader-holder novel…Act of Will is another winner."—The Pittsburgh Press
"The men and woman are all gorgeous, rich, well-dressed.There are luxurious descriptions in this perfect page-turner."—Philadelphia Inquirer on Hold the Dream
"A vibrantly characterized leading lady and a glimpse at the dazzling world of the rich and powerful."—Working Woman
"Barbara Taylor Bradford is the storyteller of substance."—The Times (London)
"Voice of the Heart is the sort of book I cannot resist, indeed I pray to find."—The Washington Times Magazine
"Meant to be read in a peignoir on a chase lounge whist nibbling scented chocolates."
—Cosmopolitan
"A rich tapestry of love and romance."—San Diego Union
"It is easy to want every item Bradford catalogues, easy to imagine wearing it, eating and drinking it, driving it, smelling like it…The geography of Voice of the Heart takes a reader to all the right places."—Los Angeles Times
"An extravagant, absorbing novel of love, courage, ambition, war, death, and passion."
—The New York Times on A Woman of Substance
"A Woman of Substance [is] a long, satisfying novel of money, power, passion and revenge, set against the sweep of 20th century history."—Los Angeles Times
 "Wonderfully entertaining."—Denver Post on A Woman of Substance
Advertisement