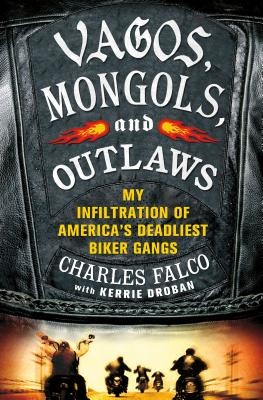 Vagos, Mongols, and Outlaws
My Infiltration of America's Deadliest Biker Gangs
Hardcover

* Individual store prices may vary.
Other Editions of This Title:
Paperback (6/17/2014)
Description
The basis for the hit TV series Gangland Undercover!

The gripping account from an ex-con who went undercover to help the ATF infiltrate three of America's most violent biker gangs

Despite lacking any experience with motorcycle gangs, Charles Falco infiltrated three of America's deadliest biker gangs: the Vagos, Mongols, and Outlaws. In separate investigations that spanned years and coasts, Falco risked his life, suffering a fractured neck and a severely torn shoulder, working deep under cover to bring violent sociopaths to justice.

His dedication was profound; Falco spent almost three years infiltrating the Vagos gang and rose to second in command of the Victorville, California chapter. He even served time in San Bernardino's Murder Unit and endured solitary confinement to protect his cover and the investigations. Falco recorded confessions of gangland-style killings and nearly became a target himself before he sought refuge in the Witness Protection Program. But discontent to remain on the sidelines and motivated by a strong sense of duty, Falco eventually left the Program and volunteer his talents again to infiltrate the Mongols and Outlaws, rising in rank to Vice President of the Petersburg, Virginia Outlaws chapter.

His efforts culminated in sixty two arrests of members for various crimes, including assault and murder. Executing one of this country's most successful RICO prosecutions and effectively crippling the criminal enterprise, Falco's engrossing narrative of the dangers of the biker underworld harkens back to Hunter S. Thompson's classic Hell's Angels, vividly recounting a life undercover.
Praise For Vagos, Mongols, and Outlaws: My Infiltration of America's Deadliest Biker Gangs…
"Falco rose to "officer" status in three biker gangs, and his book – Vagos, Mongols, and Outlaws: My Infiltration of America's Deadliest Biker Gangs – is the more polished, measured and authoritative of the two." —Los Angeles Times comparing to George Rowe's Gods of Mischief

"Absorb Vagos, Mongols, and Outlaws as one part juicy scoop, one part machismo on parade, and Falco can take some sad and beautiful snapshots." —Boston Globe

"Falco was facing a minimum sentence of 22 years in prison for conspiracy to distribute and manufacture hundreds of pounds of methamphetamine when the San Bernardino Sheriff's Department made him an offer he couldn't refuse--become an undercover informant instead of going to jail. The bulk of this fascinating autobiography describes in detail Falco's work infiltrating the Vagos Motorcycle Club, an outlaw biker gang considered in 2003 to be the 'largest urban terrorist' organization in the U.S. Falco's main assignment reads like a synopsis of the book: 'Get inside, gather intelligence on the gang, identify the club's leaders, purchase drugs from them, and collect as many illegal firearms as you can.' Falco describes in almost excruciating detail how he rose in the Vagos ranks from a go-fer to a full-fledged member, a three-year descent into a violent world of drug abuse, Neanderthal treatment of women, and constant fighting that left Falco living constantly 'in a state of veiled paranoia,' even after the Vagos gang was brought down by the law. It is Falco's unrelenting depiction of the stupidity and brutality in the Vagos biker world that makes his story powerful." —Publishers Weekly

"Facing more than 20 years behind bars for manufacturing and distributing methamphetamine, Falco quickly accepted the government's offer: in return for certain considerations, he would infiltrate the Vagos, a particularly nasty Southern California biker gang. Unfortunately, Falco wasn't a biker and had no experience with biker gangs. Like Jay Dobyns' No Angel (2009) and William Queen's Under and Alone (2005), this is a tense, violent, frequently distasteful story of a man living in a world of extreme violence, afraid his cover could be blown at any second. Of course, Dobyns and Queen were actual undercover agents. Falco was a regular guy with no training or experience, which makes the story that much more harrowing. In describing his nearly five years living with three separate biker gangs, Falco, ably assisted by true-crime author Droban, whose Running with the Devil (2007) followed a government infiltration of the Hells Angels, makes the reader feel at least some of the fear, disgust, and sheer panic he endured. The book contains some graphic language and descriptions, but, given its subject matter, most readers will probably assume that going in." —Booklist

"The paranoia of crooks, the desperation of incarceration, the fear of getting whacked, and survival working undercover in a brutal biker world devoid of common decency. You can read about it all in this book. But Charles Falco actually lived it and miraculously came out a better man." —Chris Blatchford, author of The Black Hand

"Gritty and real, tragic and brutal. The book is filled with powerful characters. A compelling read . . . not for the sqeamish." —MotorcycleUSA.com on Kerrie Droban's Prodigal Father, Pagan Son

"One of the most extraordinary true crime autobiographies." —Sydney Morning Herald on Kerrie Droban's Prodigal Father, Pagan Son

"Raw honesty and horrendous recounts . . . Prodigal Father, Pagan Son is written with emotion, detail and brilliant imagery. The book is able to capture the audience with authenticity and believability." —Nomads Leathers on Kerrie Droban's Prodigal Father, Pagan Son
Thomas Dunne Books, 9780312640149, 272pp.
Publication Date: February 5, 2013
About the Author
CHARLES FALCO spent three years infiltrating the Vagos, becoming second-in-charge of the Victorville, California chapter, another two years infiltrating the Mongols and Outlaws and became vice president of a Virginia chapter of the Outlaws.

KERRIE DROBAN is the co-author of Prodigal Father, Pagan Son: Growing Up Inside the Dangerous World of the Pagans Motorcycle Club and author of Running with the Devil: The True Story of the ATF's Infiltration of the Hells Angels, winner of the USA Book News National Book Award for Best Memoir/Autobiography and two-time winner for their True Crime award. She is a criminal defense attorney in Arizona.