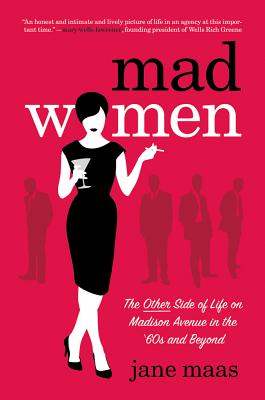 Mad Women (Hardcover)
The Other Side of Life on Madison Avenue in the '60s and Beyond
Thomas Dunne Books, 9780312640231, 228pp.
Publication Date: February 28, 2012
Other Editions of This Title:
Digital Audiobook (2/27/2012)
Paperback (1/29/2013)
MP3 CD (2/28/2012)
Compact Disc (2/28/2012)
Paperback (3/1/2012)
Hardcover (2/1/2012)
Compact Disc (2/28/2012)
* Individual store prices may vary.
Description
"Breezy and salty." -"The New York Times"
""
"""Hilarious Honest, intimate, this book tells it as it was." -Mary Wells Lawrence, author of "A Big Life" ("In Advertising") and founding president of Wells Rich Greene
"Breezy and engaging though] ...The chief value of "Mad Women" is the witness it bears for younger women about the snobbery and sexism their mothers and grandmothers endured as the price of entry into mid-century American professional life." -"The Boston Globe"
""
"""A real-life Peggy Olson, right out of Mad Men." -Shelly Lazarus, Chairman, Ogilvy & Mather
What was it like to be an advertising woman on Madison Avenue in the 60s and 70s - that "Mad Men" era of casual sex and professional serfdom? A real-life Peggy Olson reveals it all in this immensely entertaining and bittersweet memoir.
"Mad Women" is a tell-all account of life in the New York advertising world by Jane Maas, a copywriter who succeeded in the primarily male jungle depicted in the hit show "Mad Men."
Fans of the show are dying to know how accurate it is: was there really that much sex at the office? Were there really three-martini lunches? Were women really second-class citizens? Jane Maas says the answer to all three questions is unequivocally "yes." Her book, based on her own experiences and countless interviews with her peers, gives the full stories, from the junior account man whose wife almost left him when she found the copy of Screw magazine he'd used to find "a date" for a client, to the Ogilvy & Mather's annual Boat Ride, a sex-and-booze filled orgy, from which it was said no virgin ever returned intact. Wickedly funny and full of juicy inside information, "Mad Women" also tackles some of the tougher issues of the era, such as unequal pay, rampant, jaw-dropping sexism, and the difficult choice many women faced between motherhood and their careers.
About the Author
JANE MAAS began her career at Ogilvy & Mather as a copywriter in 1964 and rose to become a creative director and agency officer. Ultimately, she became president of a New York agency. A Matrix Award winner and an Advertising Woman of the Year, she is best known for her direction of the "I Love New York" campaign. She is the author of "Adventures of an Advertising Woman "and co-author of the classic "How to Advertise, "which has been translated into 17 languages.
Praise For Mad Women: The Other Side of Life on Madison Avenue in the '60s and Beyond…
"You don't have to identify with Peggy Olson on Mad Men — or even know who she is — to appreciate Jane Maas's Mad Women… [a] breezy and salty memoir." –The New York Times

"A witty, personal account of the 'real life Peggy Olson.'" —The LA Times

"One woman looks back at a time when the proposition that sex sells was just catching on, and, thanks to martinis, overflowing ashtrays, and the pill, propositions were all the rage." —Town & Country

"A dishy memoir about the drinking, sex, smoking and sexism that make that era in the industry ... so fascinating." —New York Post

"How authentic is Peggy Olson, the young secretary-turned-copywriter on Mad Men? Very real, judging from the fun memoir Mad Women by Jane Maas, a real-life Olson…. Mad Women isn't a straightforward memoir or companion book to the show. It's more a witty, impressionistic whirl through 1960s Manhattan… Fans of the show will see echoes of the fictional Sterling Cooper ad men in Maas' real-life colleagues. Maas is a great storyteller, and Mad Women stands enough on its own that even those who have never seen the TV show can enjoy the book…. Mad Men creator Matthew Weiner could probably find a few good plots in the changes that Maas notes have so far escaped Sterling Cooper." –The Hollywood Reporter

"Breezy and engaging [though] …The chief value of Mad Women is the witness it bears for younger women about the snobbery and sexism their mothers and grandmothers endured as the price of entry into mid-century American professional life." –The Boston Globe

"A bracing and consistently engaging look at the realities behind the fetishized nostalgia of Mad Men.  Funny and informative, with the kick of a dry martini." --Kirkus Reviews

"As a female copywriter in the 1960s, Jane Maas lived the Mad Men experience. In her new book, she tells us what really went on in those Madison Avenue towers. As you would expect, there was a lot of sex and scandal, but there was also so much more...She tells her story – the ups and the downs – with a sense of humor and honesty that is both refreshing and fun.... A vivid image of a woman determined to succeed against the odds, of the industry in which she thrives, and of the era in which her tale begins." --San Francisco Book Review

"Sex, money, liquor… and inspiration.  All the ingredients of Mad Men are present in Jane Maas's account of her career in 60s Manhattan." –The Observer (UK)

"Hilarious! Honest, intimate, this book tells it as it was." -- Mary Wells Lawrence, author of A Big Life (In Advertising) and founding president of Wells Rich Greene

"I think of Jane Maas as a real-life Peggy Olsen. When I started at Ogilvy & Mather in 1971, a lowly Account Executive, she was already a creative director. She took me under her wing and taught me a lot about creative work that sells. Mad Women made me laugh. It also made me nostalgic for those legendary days when David Ogilvy roamed the corridors exhorting us all to come up with BIG IDEAS. And the book made me think again about working women. Jane reminds us that the challenge of being a good wife, a nurturing mother and a successful professional, all at the same time, still remains. In this respect, we are all Mad Women." – Shelly Lazarus, Chairman of Ogilvy and Mather Worldwide

"In the Mad Men TV show, the males are depicted as shtupping their secretaries as they drink and smoke themselves to death, with nary a female copywriter in sight. In this damn funny book, the talented Jane Maas, who lived through those days of struggle and sometimes humiliation, tells it like it really was." – George Lois, Legendary Ad Man

"The funniest book I've read since From Those Wonderful Folks Who Gave You Pearl Harbor." --Jerry Della Femina, chairman and CEO of Della Femina Advertising and author of the best-selling From Those Wonderful Folks Who Gave You Pearl Harbor

"Truth is more fascinating than fiction. Maas tells the fascinating truth about mad men and the women in their boardrooms and bedrooms who juggled work, husbands and children successfully – and had as much fun doing it as you will reading about it." – Anne Tolstoi Maslon, former ad woman and author of Women's Work, Private Scores, and Trials

"I thought I knew a lot about the advertising business, but Jane Maas gives us a unique peephole into the inner workings of Madison Avenue. Mad Women is a candid insider's view of the women--and men--who made modern advertising and what drove them. Great reading." -- Bob Liodice, CEO, Association of National Advertisers

"Maas's humorous yet authoritative account of her life in advertising during the Mad Men era is a welcome look behind the curtain into a traditionally male world… Maas mixes personal stories with advertising history, making this a compelling read." –Publishers Weekly

"Part respectful homage to a glamorous and golden age, part good gossip over lunch at 21, Mad Women proves that behind every man's career, another successful woman is pedaling even faster to get where she is today." --BookPage

"Don't be misled by the title: this book is far more than an overdue antidote to the fantasy ad world of Mad Men: under the guise of a Madison Avenue memoir, Jane Maas slips in a shrewd and witty first-hand sociocultural history of America in the sixties and the seventies from a woman's point of view. A smart, funny, irreverent woman." – Bruce McCall, New Yorker writer and cover illustrator

"I read Mad Women in one delicious gulp. This is a terrific book, full of humor and information about the Mad Men - - and women - - of the world of the 1960s. Written by Jane Maas, one of the great ladies of advertising." --Patricia Bosworth, author of  Jane Fonda: The Private Life of a Public Woman

"Jane Maas nails the story of the early "mad women" in advertising.  I know.  I lived the story at two different agencies.  Yes, there was all of that sex at the office. Yes, there were three-martini lunches – sometimes with a chaser of brandy or crème de menthe or drambuie.  (I still have a headache.) But would I do it all over again?   Absolutely.  Those years were a gas, captured perfectly by Jane Maas's funny and bittersweet book." --Linda Bird Francke

"Jane Maas has written a book about advertising that isn't just for advertising people, although God knows they will find it fascinating. So will fans of Mad Men, who can compare the real thing with the TV series. Women of all ages will see themselves in its pages. Most of all, Mad Women is for anyone curious about what life was like in another century - - before computers, before cell phones, before equality." -- Laurel Cutler, groundbreaking futurist, 2011 inductee Advertising Hall of Fame
or
Not Currently Available for Direct Purchase