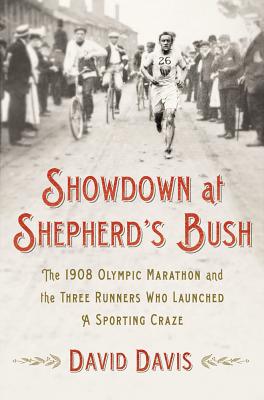 Showdown at Shepherd's Bush (Hardcover)
The 1908 Olympic Marathon and the Three Runners Who Launched a Sporting Craze
Thomas Dunne Books, 9780312641009, 320pp.
Publication Date: June 19, 2012
* Individual store prices may vary.
Description
The epic clash of an Irish-American, Italian, and Onondaga-Canadian that jump-started the first marathon mania and heralded the modern age in sports
The eyes of the world watched as three runners dirt poor Johnny Hayes, who used to run barefoot through the streets of New York City; candymaker Dorando Pietri; and the famed Tom Longboat converged for an epic battle at the 1908 London Olympics. The incredible finish was contested the world over when Pietri, who initially ran the wrong way upon entering the stadium at Shepherd's Bush, finished first but was disqualified for receiving aid from officials after collapsing just shy of the finish line, thus giving the title to runner-up Hayes. In the midst of anti-American sentiment, Queen Alexandra awarded a special cup to Pietri, who became an international celebrity and inspired one of Irving Berlin's first songs. In "Showdown at Shepherd's Bush, "David Davis recalls a time when runners braved injurious roads with slips of leather for shoes and when marathon mania became a worldwide obsession. Standing next to Cait Murphy's "Crazy '08 "as an invaluable look at a bygone sporting era, "Showdown at Shepherd's Bush" is a dramatic narrative aimed at the recordsetting number of marathon participants in the United States (more than 500,000 in 2010 ) and other running enthusiasts, and timed nicely for the return of the Olympics to London in 2012.
About the Author
DAVID DAVIS is a contributing writer at "Los Angeles "Magazine and a contributing editor for "SportsLetter." His work has appeared in "Sports Illustrated, Smithsonian Magazine, The New York Times "and "The Best American Sports Writing" anthology. He lives in Glassell Park, CA.
Praise For Showdown at Shepherd's Bush: The 1908 Olympic Marathon and the Three Runners Who Launched a Sporting Craze…
"Showdown is a peek into a fascinating moment in time at the Olympic Games."
—The Christian Science Monitor

"This is one book about marathoners you should probably sprint to obtain."
—Michael Ventre on NBCSports.com

"In less than capable hands this would have been a "did not finish." There's just so much going on from the buildup through the resolution. David Davis, however, tells the story with a light and fleeting pace that's easy to digest and simply captivating. His painstaking research is evident in the details as he described the rags-to-riches stories of the three marathoners who helped make the sport popular, and he pulled no punches when it came to explaining the competitive - and exploitative - nature of the various athletic associations and promoters of the time. The result is a mesmerising book for runners and sports fans just in time for 2012 London Summer Games."
—thecelebritycafe.com

"Showdown at Shepherd's Bush is pure Olympic gold, taking us back to a time when athletes really did run for the love of the sport. David Davis writes like they ran—clean, swift and right to the mark."
—Allen Barra, Wall Street Journal

"Imagine The Greatest Game Ever Played with three headliners instead of two or Seabiscuit with human beings standing in for the horse. Showdown at Shepherd's Bush is a wonderfully evocative account, as well-paced as a smartly run long-distance race."
—Alexander Wolff, Sports Illustrated writer and author of Big Game, Small World: A Basketball Adventure

"Davis brings the dramatic Olympic marathon of 1908 to life in this detail-rich account. A classic underdog story, the epic race between Italian Dorando Pietri, Irish-American Johnny Hayes, and Onondaga-Canadian Tom Longboat transfixed the world and established the marathon as the marquee event it is today. Although the focus is on just one event at the 1908 Olympics, the text places the marathon in the context of the evolution of the Olympics and other major sporting competitions during this period, including the World Series, World Cup, and Tour de France. Davis expertly weaves the tale of these three dynamic men into the changing political landscape of the day, detailing the racism Longboat faced as a Native American, the hardscrabble life in the tenements of New York for Hayes, and the effects of the recent unification of Italy on Pietri. Davis takes some artistic liberty when speculating about the youths of Longboat, Pietri, and Hayes since no historical documents exist about them prior to their success as marathon runners. A must-read for Olympics fans."
—Booklist

"Sports journalist Davis recounts an influential and largely forgotten chapter in Olympic lore.
As the Summer Olympics, and all the attendant pomp and circumstance, prepare to return to London in 2012, this book serves as a reminder of the event's less-glamorous origins and of a race that helped change its history. Tracing the beginnings of both the modern games and the modern marathon race, Davis focuses on three runners: pre-race favorite Tom Longboat, a Native American running for Canada, the largely unknown Italian pastry cook Dorando Pietri, and the scrappy Irish-American Johnny Hayes. The race became a sensation after a controversial finish, sparking a marathon craze and helping establish the Olympics as the headline-making international gala it is today. Davis has a great story to work with, and he does a solid job bringing it to life. He is assisted by the colorful characters of the athletes, Longboat in particular, and others, including United States Olympic Committee member James Sullivan, whose repeated claims of poor sportsmanship by the British hosts helped stir controversy and interest, and Sherlock Holmes creator Arthur Conan Doyle, whose reporting on the race helped turn it into instant legend and Pietri into an international star. The author argues convincingly that if the 1908 Games had not been a success, the Olympics might not have continued and certainly would not have taken their current form. The same can also be said for the marathon, now a major event around the world, whose distance was first established by the 1908 Olympic course.
A valuable addition to the history of the Olympics and distance running."
—Kirkus Reviews

"It's a long-lost era, but Davis brings it to life."
—Budd Bailey, Sports Book Review Center

"The entire book was filled with suspense… sure to be one of the best sports books of the year."
—Michael Giltz, The Huffington Post
or
Not Currently Available for Direct Purchase