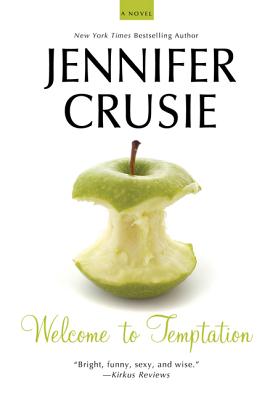 Welcome to Temptation (Paperback)
Griffin, 9780312641375, 430pp.
Publication Date: September 14, 2010
Description
Sophie Dempsey wants to help her sister film a video and then get out of Temptation, Ohio. Mayor Phin Tucker wants to play pool with the police chief and keep things peaceful. But when Sophie and Phin meet, they both get more than they want. Gossip, blackmail, adultery, murder, vehicular abuse of a corpse, and slightly perverse but excellent sex: all hell breaks loose in Temptation as Sophie and Phin fall deeper and deeper in trouble... and in love.
About the Author
Jennifer Crusie is the New York Times, Publishers Weekly, and USA Today bestselling author of Maybe This Time, Tell Me Lies, Crazy for You, Faking It, Fast Women, and Bet Me. She has also collaborated with Bob Mayer to write Wild Ride, Agnes and the Hitman and Don't Look Down. Crusie earned her bachelor's degree from Bowling Green State University, a master's from Wright State University, and a master of fine arts from Ohio State University. Before devoting herself to writing full-time, Crusie worked as a preschool teacher, an elementary and junior high art teacher, and a high school English teacher. She lives on the banks of the Ohio River.
Advertisement