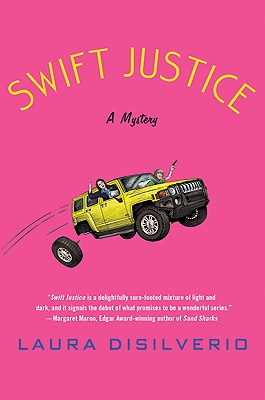 Swift Justice (Hardcover)
Minotaur Books, 9780312641504, 290pp.
Publication Date: October 12, 2010
* Individual store prices may vary.
Description
Charlotte "Charlie" Swift prefers working alone. That's why after eight years as an Air Force investigator she became a PI rather than a cop. She lives alone, she works alone, and aside for the occasional flirtation with sexy cop Connor Montgomery or her hunky neighbor Father Dan, she likes it that way. Then her silent partner flees the country, leaving his wife, Gigi, with nothing but the house, the Hummer, and a half interest in Swift Investigations. Charlie ends up with a heap of debt and Gigi, who has decided to be a not-so-silent partner. This change comes about while Charlie is trying to find the mother of a baby abandoned on a client's doorstep. While following leads, she sends Gigi out on crazy assignments, hoping that the pampered socialite will be driven to quit. However, when the baby's mother turns up dead, there's a murderer on the loose, and Charlie will need all the help she can get.
Swift Justice is a Lefty Award finalist for best humorous mystery.
About the Author
Laura DiSilverio spent twenty years as an Air Force intelligence officer---serving as a squadron commander, with the National Reconnaissance Office, and with a fighter wing---before retiring to parent and write full time. She resides in Colorado with her hubby, teenaged daughters, and dog, and is currently working on the second Charlie Swift book.
Praise For Swift Justice…
"The story is well crafted, and this series should appeal to readers who enjoy a good puzzle mystery with a side of slapstick."--The Boston Globe
"Though Gigi's disastrously silly scrapes exasperate Charlie, readers will eat them up in this charming series debut by DiSilverio."--Kirkus Reviews
"Swift Justice manages to be serious and funny at the same time. While the plot has some very serious topics, DiSilverio lightens the tone through scenes with Gigi, who's always good for a laugh. One of the best aspects of the book is Charlie's relationship with cop Connor Montgomery, because it turns the clichéd cop/P.I. relationship on its ear."--RT Book Reviews (4 stars) 
"The relationship between these two women is comparable to Evanovich's, Stephanie and Lulu, and the two make one laugh-out-loud odd couple."--Newport Beach Public Library
Charlotte "Charlie" Swift of Swift Investigations has just started on her newest case--finding the mother of a baby left with a woman who doesn't want her husband to know she's the baby's grandmother. Then Gigi shows up; her ex-husband was Charlie's silent partner, but he ran off with a much younger woman--after cleaning out the couple's bank account--leaving Gigi with no income, two teenage kids, and the partnership papers for Swift Investigations. Loner Charlie definitely doesn't need a middle-aged, inexperienced woman who has no idea of how to work as a private detective; but they're stuck together. Readers will sympathize with Gigi, who manages to turn crazy assignments into even crazier situations. Meanwhile, Charlie's case gets more complicated when the missing mother turns up dead. The odd-couple relationship between the two women may appeal to fans of Janet Evanovich's Stephanie Plum and Lula. DiSilverio deftly mixes light, zany humor with the darkness of the crimes. Readers will
or
Not Currently Available for Direct Purchase