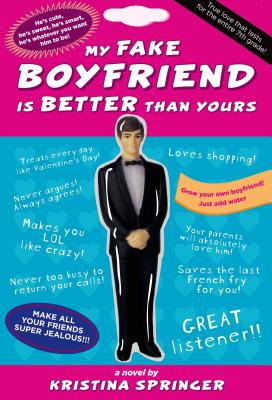 My Fake Boyfriend is Better Than Yours (Paperback)
Square Fish, 9780312641597, 208pp.
Publication Date: December 31, 2013
* Individual store prices may vary.
Description
Seventh grade was supposed to be fun, but Tori is having major drama with her BFF, Sienna. Sienna changed a lot over the summer—on the first day of school she's tan, confident, and full of stories about her new dreamy boyfriend. Tori knows that she's totally making this guy up. So Tori invents her own fake boyfriend, who is better than Sienna's in every way. Things are going great—unless you count the whole lying-to-your-best-friend thing—until everyone insists Tori and Sienna bring their boyfriends to the back-to-school dance.
About the Author
KRISTINA SPRINGER holds a master's degree in writing from DePaul University. She is the author of The Espressologist, which Publishers Weekly called "a cheerful, breezy romance." She lives with her family outside Chicago, Illinois.
Praise For My Fake Boyfriend is Better Than Yours…
"Irresistible as a fluffy kitten. I laughed out loud and so will you!" —Meg Cabot, author of the Airhead and Allie Finkle's Rules for Girls series
"Tori is an appealing, engaging protagonist whose peppy first-person narrative includes some introspective moments and incorporates issues that readers will appreciate, especially the importance of honesty, trust, and self-appreciation. An enjoyable, entertaining read." —Booklist
"Friendship versus one-upmanship in seventh grade is the subject of Springer's very funny and strongly realistic novel." —Publishers Weekly
"The sheer exhaustion of a fake-boyfriend arms race, with the need to create fake email accounts and to come up with competing romantic gestures on the fly, is cleverly depicted." —Bulletin of the Center for Children's Books
"The themes will resonate with any girl who's ever gone through the hardships of middle school: friendship, boys, popularity, and, most importantly, choosing to do the right, but often more difficult, thing. A fun read." —School Library Journal
"The dialogue is realistic, and Springer brings refreshing personalities to standard character types; Tori's parents are divorced, but both parents are active in her life, for instance, and the popular girls aren't mean." —Kirkus Reviews