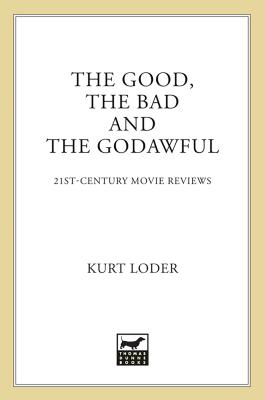 The Good, the Bad and the Godawful: 21st-Century Movie Reviews (Paperback)
21st-Century Movie Reviews
Griffin, 9780312641634, 536pp.
Publication Date: November 8, 2011
Description
The former Rolling Stone writer and MTV host takes off from classic Roger Ebert and sails boldly into the new millennium.
Millions grew up reading the author's record reviews and watching him on MTV's "The Week in Rock." In this collection of more than 200 movie reviews from MTV.com and, more recently, the "Reason" magazine Website, plus sidebars exclusive to this volume, Loder demonstrates his characteristic wry voice and finely honed observations. The author shines when writing on the best that Hollywood and indie filmmakers have to offer, and his negative reviews are sometimes more fun than his raves. This freewheeling survey of the wild, the wonderful and the altogether otherwise is an indispensable book for any film buff.
About the Author
KURT LODER currently writes about movies for REASON ONLINE. He was staff writer and senior editor at ROLLING STONE for nine years, where he remains a contributing editor; writer and host of MTV's THE WEEK IN ROCK for more than a decade; and movie reviewer for MTV.com. He is the co-author of Tina Turner's autobiography, I, TINA, a NEW YORK TIMES bestseller.
Praise For The Good, the Bad and the Godawful: 21st-Century Movie Reviews…
"The charm and success of the book is that Loder brings his substantial writing skills—and his keen understanding of pop culture and how it works—to discussing both serious and zombie movies in a way that sounds like your best friend intelligently ranting to you about a film in a bar."—Publishers Weekly

"If you love movies—even the bad ones—do yourself a favor and run to the nearest bookstore and buy this book. Keep it on your bedside table and I promise, you'll be a better person for it."—
Tucson Citizen
"Kurt Loder is an alien from outer space brought here to review movies. Enjoy his gift before we dissect him for research."—Sarah Silverman

"Every sentence [is] a witty, take-no-prisoners surprise."—Owen Gleiberman, Entertainment Weekly

"Reading this book is like sitting next to Kurt at the movies…only you get to laugh as loud as you want!"—Chris Connelly, ABC News contributing correspondent and former editor, Premiere Magazine

"Loder's thoughts on all the movies are interesting and he makes a good reviewer - hitting the high points of the movie and getting his point across without being too preachy. And movie lovers will enjoy reading about their favorites and most-hated."—Newsand Sentinel.com

"it's pure Loder through and through…if you're a fan of Loder's sharply irreverent views, you'll be happy to read he's applied it very well here on a wide variety of movies."—David Konow, TGDaily.com
Advertisement