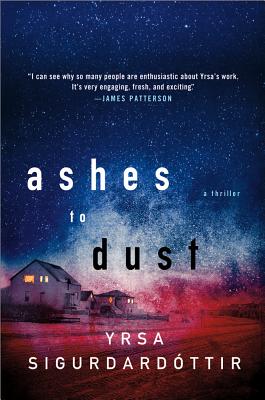 Ashes to Dust (Paperback)
Minotaur Books, 9780312641740, 360pp.
Publication Date: March 27, 2012
Description
"I can see why so many people are enthusiastic about Yrsa's work. It's very engaging, fresh, and exciting." -- James Patterson

"Iceland's crime queen." --The Scotsman
One of the finest Nordic crime writers working today, Yrsa Sigurdardottir has been published to rave reviews worldwide. Now, with "Ashes to Dust, "she delivers a dynamite and timely thriller set at the site of a volcano.
In 1973, a volcanic eruption buried an entire Icelandic village in lava and ash. Now, hoping to make some cash, a crew is assembled to excavate the site and turn it into a tourist destination. Markus, who was a teenager when the volcano erupted, enlists the help of attorney Thora Gudmundsdottir to try to prevent the excavation from going forward.
When the digging continues and three fresh bodies (and a spare head) turn up in the basement of Markus' childhood home, Thora begins to question Markus' motives for wanting to stop the excavation. His explanation for the bodies is complicated, and the locals seem oddly reluctant to back him up. As Markus' story begins to unravel, Thora finds herself with an impossible task, defending Markus while trying to solve a quadruple murder that may very well implicate her client.
With unforgettable characters, unexpected twists, and superb psychological suspense, "Ashes to Dust" is a riveting thriller from a new international star.
About the Author
YRSA SIGURDARDOTTIR lives with her family in Reykjavik; she is also a director of one of Iceland's largest engineering firms.
Praise For Ashes to Dust…
Praise for Ashes to Dust
"Excellent... Sigurdardóttir uses Iceland's past and present to full effect in this tale of hidden crimes and family secrets. Even those unfamiliar with this volcanic island nation will find themselves entranced."
--Publishers Weekly (starred) 
"Buried under all the volcanic ash, false trails and endless recriminations is a puzzle whose grim solution is worthy of Stieg Larsson."
--Kirkus
"This darkly atmospheric psychological suspense is full of unusual characters, as well as numerous surprising twists and turns."
--FreshFiction.com
"A fine mix of crime and vividly realized landscape."
--Booklist
"Icelandic volcanic explosion provides a timely background... the chaos and panic caused by the 1973 eruption are vividly evoked in Yrsa Sigurdardóttir's novel."
--The Independent (UK)
"A fascinating setting and realistic characters make this an engrossing read -- and Sigurdardóttir maintains the intrigue as her clever plot unravels."
 --Metro (UK)
Praise for the Novels of Yrsa Sigurdard
ó
ttir
"Iceland's answer to Stieg Larsson."
--The Telegraph (UK)
"Stands comparison with the finest contemporary crime writing anywhere in the world."
--The Times Literary Supplement (UK)
"Sigurdardóttir delivers terrific clammy atmosphere and frequent frissons of fear; she is entitled to join the front rank of Nordic crime writers."
--The Times (UK)
"Brilliantly plotted and chilling."
 --The Daily Mirror (UK)
Praise for Last Rituals
"Thora is an attractive heroine; she's practical, capable and intelligent as well as having a dry sense of humor and an enquiring mind….She's curious about everything."
--EuroCrime.com
Prasie for My Soul to Take
"The writing is distinguished by superb evocations of extraordinary landscapes."
--The Independent (UK)
"Icelandic attorney Thóra Gudmundsdóttir is a clever and astute woman, and a welcome addition to the pantheon of fictional female investigators."
--RT Book Reviews (four stars)
Advertisement