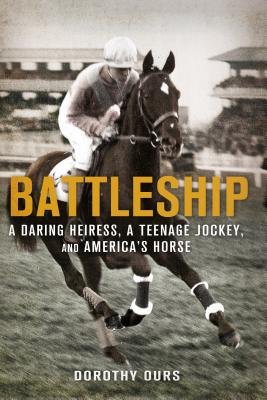 Battleship: A Daring Heiress, a Teenage Jockey, and America's Horse (Hardcover)
A Daring Heiress, a Teenage Jockey, and America's Horse
St. Martin's Press, 9780312641856, 360pp.
Publication Date: April 30, 2013
* Individual store prices may vary.
or
Not Currently Available for Direct Purchase
Description
The moving story of a tough little horse, a gifted boy, and a woman ahead of her time.
The youngest jockey, the smallest horse, and an unconventional heiress who disliked publicizing herself. Together, near Liverpool, England, they made a leap of faith on a spring day in 1938: overriding the jockey's father, trusting the boy and the horse that the British nicknamed the "American pony" to handle a race course that newspapers called "Suicide Lane." There, Battleship might become the first American racer to win England's monumental, century-old Grand National steeplechase. His rider, Great Britain's Bruce Hobbs, was only 17 years old.
Hobbs started life with an advantage: his father, Reginald, was a superb professional horseman. But Reg Hobbs also made extreme demands, putting Bruce in situations that horrified the boy's mother and sometimes terrified the child. Bruce had to decide just how brave he could stand to be.
On the other side of the Atlantic, the enigmatic Marion duPont grew up at the estate now known as James Madison's Montpelier the refuge of America's "Father of the Constitution." Rejecting her chance to be a debutante, denied a corporate role because of her gender, Marion chose a pursuit where horses spoke for her. Taking on the world's toughest race, she would leave her film star husband, Randolph Scott, a continent away and be pulled beyond her own control. With its reach from Lindbergh's transatlantic flight to Cary Grant's Hollywood, "Battleship" is an epic tale of testing your true worth.
About the Author
DOROTHY OURS is lifelong horse and racing enthusiast who worked for several years at America's National Museum of Racing and Hall of Fame. Her first book, "Man o' War: A Legend Like Lightning," was honored as runner-up for Thoroughbred racing's inaugural Dr. Tony Ryan Book Award. She has freelanced as a racing journalist and studied Battleship and his world as a John H. Daniels Research Fellow at the National Sporting Library in Middleburg, Virginia. Her B.F.A. in Theater came in handy while exploring the world of Randolph Scott.
Praise For Battleship: A Daring Heiress, a Teenage Jockey, and America's Horse…
"Meticulously researched and beautifully written. Ours masterfully ties the sport of racing together with the outer world that embraces it, all the while presenting a cast of human characters we grow to care about, and whose patience and faith ultimately allowed a horse's greatness to shine through . . . A gifted writer with a great tale to tell."  —Daily Racing Form

"Dorothy Ours' fresh perspective makes for delightful reading. Straight from the gate, this is a well-researched exploration of Team Battleship, as well as a colorful snapshot of an era when horses could still be national heroes. . . Battleship is a moving read by a talented writer, and a worthy addition to any sporting library."

—The Equiery magazine

"Author Ours clearly has a deep appreciation for racehorses, their riders, and the people who build their lives around them. Perfect for fans of Laura Hillenbrand's Seabiscuit or Bill Nack's Secretariat."  —Booklist
"Evokes a time when horse racing was not only the sport of kings, but captured the global imagination of millions . . . a companion for Laura Hillenbrand's Seabiscuit."  —Kirkus
"Battleship reminds us that many thoroughbreds, like many humans, are only getting started in their Derby days . . . If, like Battleship, we have it in us to try the Grand National steeplechase, we may even rise to 4 miles and 856 yards, jumping 30 fences, leaping as high as our own shoulders while carrying much heavier burdens than the Derby babies bear. And that, more than any Derby victory, should give us hope . . . As Battleship the late-bloomer proved, there's more than one way to the Hall of Fame."  —New York Times horse racing blog, The Rail
"Following her superb biography of America's greatest racehorse Man o'War, Dorothy Ours tells the story of Man o'War's son, Battleship, and his quest to win the Grand National steeplechase. Like the heroine Velvet Brown of Enid Bagnold's novel National Velvet, Battleship's owner, Marion duPont Scott, persisted in her belief that her little American horse belonged in England's greatest and most challenging race over jumps. Ours' cadenced language, both elegant and often exhilarating, recalls the thundering hooves and pounding heart of her champion."
—Elizabeth M. Tobey, Ph.D.
"Anybody with an appreciation of racing's history is certain to be enthralled by the richness given to this uniquely American tale of a Man o' War son traveling to England for the world's greatest steeplechase race at Aintree. Dorothy Ours excels as she breathes excitement into a grand bygone era with great style."
—Barry Irwin, CEO of Team Valor International, owner and breeder of Kentucky Derby-winner Animal Kingdom
"Meticulously-researched and accurately-written…an easy joy to read. I gained a lot of fascinating new background material on the leading characters, while the vivid description of the race itself was both stirringly exciting and emotionally moving. This is a totally addictive book that I just could not put down."
  —Jane Clarke, Grand National historian/researcher for Aintree Racecourse, Liverpool and curator of the Grand National Museum
Advertisement