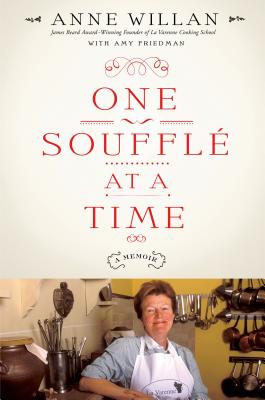 One Souffle at a Time
A Memoir of Food and France
Hardcover

* Individual store prices may vary.
Other Editions of This Title:
Paperback (8/26/2014)
Description
Anne Willan demystified classic French culinary technique for regular people who love food. Her legendary La Varenne Cooking School-in its original location in Paris and later in its longtime home in Burgundy-trained chefs, food writers and home cooks. Under Willan's cheerful, no-nonsense instruction, anyone could learn to truss a chicken, make a bernaise, or loft a souffle.
In "One Souffle at a Time," Willan tells her story and the story of the food-world greats-including Julia Child, James Beard, Simone Beck, Craig Claiborne, Richard Olney, and others-who changed how the world eats and who made cooking "fun." She writes about how a sturdy English girl from Yorkshire made it not only to the stove, but to France, and how she overcame the exceptionally closed male world of French cuisine to found and run her school. Willan's story is warm and rich, funny and fragrant with the smells of the country cooking of France. It's also full of the creative culinary ferment of the 1970s-a decade when herbs came back to life and freshness took over, when the seeds of our modern day obsession with food and ingredients were sown.
Tens of thousands of students have learned from Willan, not just at La Varenne, but through her large, ambitious "Look & Cook" book series and twenty-six-part PBS program. Now "One Souffle at a Time" --which features fifty of her favorite recipes, from Coquille St. Jacques to Chocolate Snowball--brings Willan's own story of her life to the center of the banquet table.
St. Martin's Press, 9780312642174, 305pp.
Publication Date: September 17, 2013
About the Author
ANNE WILLAN is one of the world's authorities on French cooking with more than fifty years of experience as a teacher, cookbook author and food columnist. She founded Ecole de Cuisine La Varenne in 1975. Her most recent books are The Cookbook Library: The Cooks, Writers and Recipes that Made the Modern Cookbook, with her husband, Mark Cherniavsky, which won the Jane Grigson Award for outstanding literary writing, and The Country Cooking of France, which took two James Beard Foundation Book Awards. Willan was inducted into the James Beard Foundation's Cookbook Hall of Fame in 2013 for her body of work. She lives in Santa Monica, California and in France.AMY FRIEDMAN is the author of Desperado's Wife A Memoir. She writes the internationally syndicated "Tell Me a Story" column for Universal Press Syndicate.
or
Not Currently Available for Direct Purchase