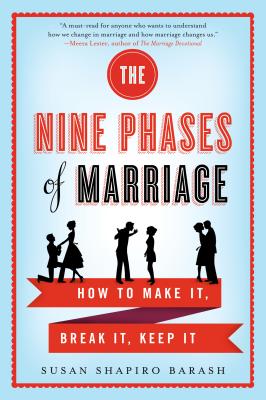 The Nine Phases of Marriage (Paperback)
St. Martins Press-3pl, 9780312642198, 288pp.
Publication Date: September 18, 2012
* Individual store prices may vary.
Description
From the author of Toxic Friends-a groundbreaking look at how to understand your marriage and create a more satisfying relationship
Every marriage goes through nine phases. It is only by understanding the course our marriages run that we can truly begin to craft the perfect relationship. In The Nine Phases of Marriage, Susan Shapiro Barash breaks down and analyzes these phases, which are:
- Phase One: Passion and Longing
- Phase Two: Conforming: The Perfect Wife
- Phase Three: Real Life: Child Centricity
- Phase Four: Tension: One Bed: Two Dreams
- Phase Five: Distance: Two Beds: Two Rooms
- Phase Six: Fracturing: Midlife Divorce
- Phase Seven: Second Chances: Remarriage and Renegotiating
- Phase Eight: Balance: Concessions
- Phase Nine: Successful Coupling
With this essential knowledge, spouses can successfully navigate the natural pitfalls and perils of their marriages and embark on a true partnership.
About the Author
SUSAN SHAPIRO BARASH is an established writer of nonfiction women's issue books and has written thirteen books. She teaches gender studies at Marymount Manhattan College. A well-recognized gender expert, she is frequently sought out by newspapers, televisions shows, and radio programs to comment on women's issues. She also blogs for The Huffington Post and Psychology Today. She lives in New York City.