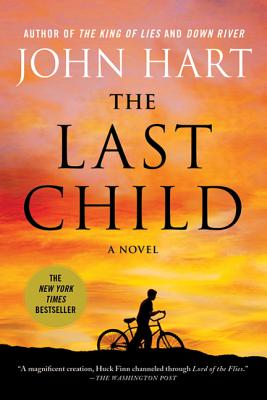 The Last Child
A Novel
Paperback

* Individual store prices may vary.
Other Editions of This Title:
Digital Audiobook (5/11/2009)
Mass Market (3/1/2016)
CD-Audio (9/13/2016)
Paperback (1/3/2017)
Paperback, French (8/31/2011)
Hardcover (5/12/2009)
Description
Winner of the 2010 Edgar Award for Best Novel

John Hart's New York Times bestselling debut, The King of Lies, announced the arrival of a major talent. With Down River, he surpassed his earlier success, transcending the barrier between thriller and literature and winning the 2008 Edgar Award for best novel. Now, with The Last Child, he achieves his most significant work to date, an intricate, powerful story of loss, hope, and courage in the face of evil.

Thirteen year-old Johnny Merrimon had the perfect life: a warm home and loving parents; a twin sister, Alyssa, with whom he shared an irreplaceable bond. He knew nothing of loss, until the day Alyssa vanished from the side of a lonely street. Now, a year later, Johnny finds himself isolated and alone, failed by the people he'd been taught since birth to trust. No one else believes that Alyssa is still alive, but Johnny is certain that she is---confident in a way that he can never fully explain.

Determined to find his sister, Johnny risks everything to explore the dark side of his hometown. It is a desperate, terrifying search, but Johnny is not as alone as he might think. Detective Clyde Hunt has never stopped looking for Alyssa either, and he has a soft spot for Johnny. He watches over the boy and tries to keep him safe, but when Johnny uncovers a dangerous lead and vows to follow it, Hunt has no choice but to intervene.

Then a second child goes missing . . .

Undeterred by Hunt's threats or his mother's pleas, Johnny enlists the help of his last friend, and together they plunge into the wild, to a forgotten place with a history of violence that goes back more than a hundred years. There, they meet a giant of a man, an escaped convict on his own tragic quest. What they learn from him will shatter every notion Johnny had about the fate of his sister; it will lead them to another far place, to a truth that will test both boys to the limit.

Traveling the wilderness between innocence and hard wisdom, between hopelessness and faith, The Last Child leaves all categories behind and establishes John Hart as a writer of unique power.
Praise For The Last Child: A Novel…
"With his best novel yet, the Edgar Award-winning Hart (Down River) firmly cements his place alongside the greats of the genre." —Library Journal (starred review)

"John Hart's The Last Child is a rare accomplishment--a compelling, fast-paced thriller written with a masterful, literary touch. You'll feel this story as much in your heart as in your gut." —Jeffery Deaver, author of The Bodies Left Behind

"Hart spins an impressively layered tale of broken families and secrets that can kill." —Publishers Weekly

"In his third novel, Edgar-winner Hart confronts murder, depravity, betrayal and the like, while still finding room for tenderness." —Kirkus Reviews (starred review)

"Hart once again produces a novel that is elegant, haunting, and memorable. His characters are given an emotional depth that genre characters seldom have, and the graceful, evocative prose lifts his stories right out of their genre and into the realm of capital-L literature. A must-read for every variety of fiction reader." —Booklist (starred review)

"The Last Child is a beautifully written, gripping story that will have you staying up late, torn between a desire to know what happens and a reluctance to get to the book's end and break the spell. But don't worry: The characters will stay vividly alive in your imagination long after you've raced through the pages." —Winston-Salem Journal

"Hart...is brilliant in the art of misdirection...But his attention to language and tempo, his descriptions of settings and people, and his development of characters and their personal relationships all add a wonderful richness to his work. It is a richness that should make The Last Child a pleasure for any reader." —News & Observer (Raleigh, NC)

"Hart artfully employs the pattern of a whodunit to lead the reader down a twisted, thrilling path. What lies at the end, though, is wholly unexpected. There is no easy solution to this story, as we are asked to contemplate the senselessness of fate and the sacrifices some people are willing to make for their families. With the deft characterization of any good work of literary fiction and the subtle, satisfying plotting of a favorite mystery, The Last Child brings readers deep into the pathos of a small North Carolina community. This page turner will stay in your mind long after you've read the final page." —Atlanta Journal-Constitution

"The missing-child story has been done so often that it takes something extraordinary to make it rise above the commonplace. And that is what John Hart has accomplished in his third novel, The Last Child. In the end, this is a novel about blood--the blood of life and death, the blood of kin, the blood of the past. And Hart has again brought forth a mystery/thriller that surpasses the humdrum and rises to serious literature." —Richmond Times Dispatch

"Hart's third novel, The Last Child, surpasses its superb predecessors. The Last Child's atmospheric, hard-boiled story allows Hart to delve into a town's sinister secrets with a complex tale of broken families, despair and hope." —Florida Sun-Sentinel

"John Hart is already much praised, but his third and most complex psychological thriller is a risk which has paid off with that same unshakeable sense of discovery. The risk lay in the rarely attempted feat of writing a convincing child hero for adults. His success injects extra poignancy into an already compelling blend of southern gothic mock-epic, outright horror and dues-paying whodunnit. This one stays with you." —The Daily Telegraph (UK)

"Be warned: the young hero of this compelling read will break your heart. The Last Child is one of those books that stays with readers long after the last page is turned." —Calgary Herald (Canada)

"Hart is still far too young for The Last Child to be called a crowning achievement, but the novel's ambition, emotional breadth and maturity make it an early masterpiece in a career that continues to promise great things." —The Washington Post

"... The Last Child is also a terrific mystery chock full of twists, turns and red herrings as the truth behind Alyssa's disappearance becomes clear in a denouement that offers some degree of hope, however jaded.
Many books strive to build complex mythologies into their tales. Hart, instead, ambitiously sets out to debunk the greatest mythology of all: childhood itself. A study in reverse literary engineering, his is a brilliant vision beautifully realized." —Providence Journal

"If you haven't read John Hart, whose latest novel is The Last Child, you ought to." —Mike Lupica, New York Daily News

"This book should settle once and for all the question of whether thrillers and mysteries can also be literature." —Publishers Weekly (starred review) on Down River

"Evocative storytelling and lush prose." —Boston Globe on Down River

"Down River falls squarely in the league of the best of Southern novels." —South Florida Sun-Sentinel on Down River

"A sensitive rumination on the emotional force of family dynamics." —Washington Post on Down River

"There are few books published that can legitimately be called a 'must-read,' but this is one of them." —Chicago Sun-Times on Down River

"If you value Harper Lee, James Lee Burke, Truman Capote, and Michael Malone… it's time to add John Hart to your bookshelves." —Otto Penzler, New York Sun, on Down River

"A truly splendid novel with a deep emotional core." —Booklist (starred review) on Down River

"Hart's sophomore effort surpasses his debut….The writing is simply superb." —Library Journal (starred review) on Down River

"Sometimes, early success can be a curse for a writer....That's definitely not the case with North Carolina's John Hart...With Down River...he's only gotten better." —Winston-Salem Journal on Down River

"A striking new talent." —Entertainment Weekly (Grade A)

"A gripping performance." —People Magazine

"A masterful piece of writing." —The News & Observer (Raleigh, NC) on The King of Lies

"The King of Lies moves and reads like a book on fire." —Pat Conroy on The King of Lies
Minotaur Books, 9780312642365, 432pp.
Publication Date: March 9, 2010
About the Author
John Hart is the New York Times bestselling author of The King of Lies, Down River, The Last Child, Iron House, Redemption Road, and The Hush. The only author in history to win the Edgar Award for Best Novel consecutively, John has also won the Barry Award, the Southern Independent Bookseller's Award for Fiction, the Ian Fleming Steel Dagger Award, and the North Carolina Award for Literature. His novels have been translated into thirty languages and can be found in more than seventy countries.
What is the meaning of the title? Who is "The Last Child"?
The novel is not just about Johnny's search for Alyssa. It's also about his quest for power. Where does Johnny look for power and does he ever truly find it? If so, where? 
In the beginning of the novel we find Katherine in a state of utter collapse. Is her condition understandable, given the circumstances? If not, does she redeem herself?  
Why does Detective Hunt care so much for Katherine and Johnny? Why does he love her so deeply and what does he see in the boy that he finds so remarkable? How do those feelings contrast with the way he sees his own son? His own life? 
Revisit the opening of Chapter Fourteen: Johnny's ritual with the fire. We find out that Johnny has had a severe crisis of faith since Alyssa disappeared, and for what he was about to do, he "needed older gods." What draws Johnny to "older gods"? What kind of power do they have that the God of his childhood does not? 
By the end of the novel, Johnny comes to believe that Freemantle was, indeed, set in motion as an instrument of God. If this the case, by what means did God put Freemantle in motion? And given the debt that Freemantle owes to Johnny's family, was the price too high, or was it fair? Is life, indeed, a circle?  
We see two preachers in Johnny's life, one described as, "fingernails buffed and fat face shining," and one described as "a blade of a priest in white, flashing robes." How do these figures reflect the changing nature of Johnny's faith? At the end of the novel, does he believe in the same God he believed in before Alyssa disappeared or does he still believe in other sources of power?  
Freemantle believes that crows have the power to collect the souls of the dead. This is why he fears them. If the crows are not after the soul of Freemantle's daughter, as Freemantle originally believes, why then are they following him? Do the crows have another goal in mind? Is the goal accomplished? 
Explore the different father-son relationships in the story. How does each relationship evolve throughout the course of the novel? What are the similarities and differences between each father-son relationship? How do the fathers' actions effect those of their sons? 
Many people blame themselves for things that have happened in the past—Johnny, Hunt, Katherine, Jack, Levi Freemantle, and others. How does guilt motivate each of them to act? Where does the real guilt lie in the story?  
The novel opens on a view of the North Carolina back country. What role does the setting have in the story? Do you think Johnny's story have the same impact if it took place in a different state, or in a different country?