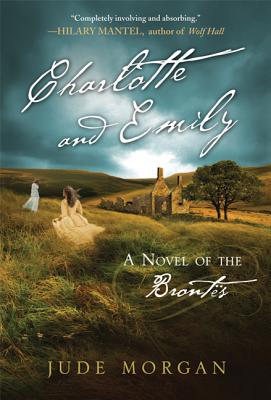 Charlotte and Emily (Paperback)
A Novel of the Brontës
St. Martin's Griffin, 9780312642730, 384pp.
Publication Date: April 27, 2010
* Individual store prices may vary.
Description
From an obscure country parsonage came three extraordinary sisters, who defied the outward bleakness of their lives to create the most brilliant literary work of their time. Now, in an astonishingly daring novel by the acclaimed Jude Morgan, the genius of the haunted Brontës is revealed and the sisters are brought to full, resplendent life: Emily, who turned from the world to the greater temptations of the imagination; gentle Anne, who suffered the harshest perception of the stifling life forced upon her; and the brilliant, uncompromising, and tormented Charlotte, who longed for both love and independence, and learned their ultimate price.
About the Author
Jude Morgan, who studied with Malcolm Bradbury and Angela Carter, lives in England.  Morgan's works include Emily and Charlotte, a novel about the Brontë sisters; An Accomplished Woman; Symphony; Indiscretion; and Passion, which was called "one of the best books of 2005" by The Washington Post Book World.
Praise For Charlotte and Emily: A Novel of the Brontës…
"Generations of powerful writers from Elizabeth Gaskell to Daphne du Maurier…have rewritten the Brontës' narrative…[Morgan holds] nerve and reason where many a Brontë biographer fails…brilliant…moving…superb…a lovely book." —The Guardian
"Quite simply the best novel about the Brontës I have ever read." —Juliet Barker, author of The Brontës: A Life in Letters
"[One of] the best books of 2005. A remarkable book...about love and lust....A feast of language, a grab bag of delights....an exploration of mind and emotion, heart and art." —The Washington Post Book World on PASSION
"This entertaining comedy of manners sparkles with rat-a-tat repartee, and the endearing...characters separate and reunite as rhythmically and precisely as ballroom dancers performing a waltz." —People Magazine (3 1/2 stars) on INDISCRETION
"With empathy and formidable imagination, [PASSION brings] the Romantic era to full, resplendent life." —Entertainment Weekly (Grade: A)
"Deeply imagined and gorgeously written...brings a fascinating past to brilliant light." —Publishers Weekly (starred review) on PASSION
"A deeply empathic exploration of obsession and art, genius and madness....Morgan's ability to bring each character to life is virtuosic." —The Washington Post Book World on SYMPHONY
"Lush, period-appropriate, at times impenetrable prose make for...a credible behind-the-music expose of the Romantic era." —Kirkus Reviews on SYMPHONY
"A tour de force." —Library Journal on PASSION