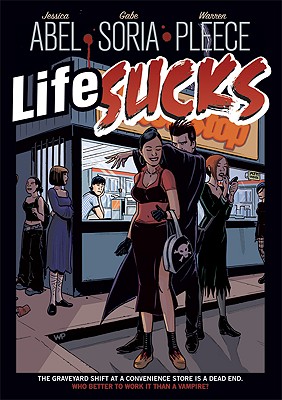 Life Sucks
Paperback

* Individual store prices may vary.
Other Editions of This Title:
Paperback (4/29/2008)
Description
I'm psyched. I'm totally psyched. I'm not a loser.
Who the hell am I kidding?
Life sucks for Dave Miller—he's broke, girlfriendless, and stuck in a dead-end job. Life sucks harder because his job is night manager at the Last Stop, LA's finest vampire-owned 24-hour convenience store. Dave's facing an eternity of turning the hot dogs and installing pork cracklins displays for Radu, his crappy boss and Vampire Master. It's bad enough that Dave is clinging to his days as a vegetarian by refusing to feed off of humans, leaving him weak as a kitten and so not capable of superhuman feats of strength. But when he finds himself competing with psychotic surfer-vamp Wes for the affections of Rosa, a beautiful mortal with a romantic fixation on the dark side, life is about as sucky as it can possibly get.
Praise For Life Sucks…
"Life Sucks takes that old tired vampire idea, places it under ugly fluorescent lights and their dead end jobs and somehow the combination is electric. For even the most vamped out amongst us, Life Sucks offers something fresh and new. . . . a fascinating, thoughtful read."—School Library Journal Blog
"This hilarious tale strikes perilously close to the reality of the slacker twenty-something life. Abel and Soria hit their mark with plenty of attitude and just enough snark to let their characters come to life. Warren Pleece's art marvelously captures the humor of the mundane that lend the book's crew of late-night wage-slave vamps believability and energy. A really fun read!"—Booklist
"Perfectly appropriate for older teens and adults, this book will appeal to fans of vampires, of coming of age stories, as well as those who love Kevin Smith's movie Clerks."—Five Star Review in ICv2 Graphic Novel Guide "There's plenty of humor with Dave's friend Jerome acting as a Clerks-like foil. . . . Abel and Soria's light approach, combined with Pleece's bright, Technicolor art, gives the book an entertaining Joss Whedon gloss to its Gen-Y bloodsucking melodrama."—Publishers Weekly
Square Fish, 9780312642914, 208pp.
Publication Date: September 28, 2010
About the Author
"Life Sucks" was written by Jessica Abel and Gabe Soria, with art by Warren Pleece. JESSICA ABEL is one of the foremost female comics creators in the industry. She and her husband teach courses on creating comics at the School of Visual Arts in New York City, and have co-written the textbook based on their classes, "Drawing Words and Writing Pictures," available from First Second. GABE SORIA is a Brooklyn-based music journalist and has written "Batman Adventures." WARREN PLEECE is a British comics artist who has worked on numerous projects, including "The Invisibles" and "Hellblazer."
or
Not Currently Available for Direct Purchase