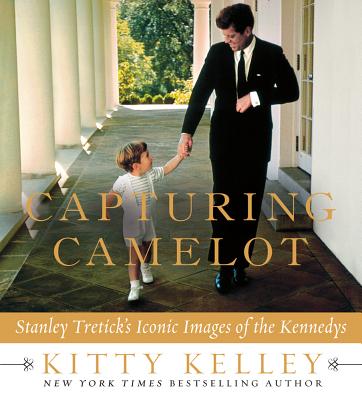 Capturing Camelot (Hardcover)
Stanley Tretick's Iconic Images of the Kennedys
Thomas Dunne Books, 9780312643423, 240pp.
Publication Date: November 13, 2012
* Individual store prices may vary.
Description
A bestselling author goes behind the lens of a legendary photographer to capture a magical time

A consummate photojournalist, Stanley Tretick was sent by United Press International to follow the Kennedy campaign of 1960. The photographer soon befriended the candidate and took many of JFK's best pictures during this time. When Kennedy took office, Tretick was given extensive access to the White House, and the picture magazine Look hired him to cover the president and his family. Tretick is best known today for the photographs he took of President Kennedy relaxing with his children. His photographs helped define the American family of the early sixties and lent Kennedy an endearing credibility that greatly contributed to his popularity.
Accompanied by an insightful, heartwarming essay from Kitty Kelley—Tretick's close friend—about the relationship between the photographer and JFK, Capturing Camelot includes some of the most memorable images of America's Camelot and brings to life the uniquely hopeful historical era from which it emerged.
About the Author
KITTY KELLEY is an internationally acclaimed writer, whose bestselling biographies focus on some of the most influential and powerful personalities of the last fifty years. Kelley's books have been number one on The New York Times bestseller list, including Oprah: A Biography.
Praise For Capturing Camelot: Stanley Tretick's Iconic Images of the Kennedys…
"Capturing Camelot: Stanley Tretick's Iconic Images of the Kennedys breathes life into this compilation of more than 200 photos, many never before seen until now… Kelley's moving narrative, along with the sizable, glossy photographs will surely delight any Camelot aficionado!" —Portland Book Review
"A labor-of-love collection of work by the photographer she praises as 'my best friend…a pal without parallel.' … a tribute to a photographer, a president and a time when the former functioned as the world's eyes into the latter. A pleasant mixture of iconic and surprising shots--a photo book that is ultimately as much about the photographer, and the access he gained, as it is about its subject." —Kirkus Reviews
"Tretick's achievement is the masterful construction of legend through careful framing and omission--and teamwork with his subjects. Indeed JFK choreographed much of this work himself…. The opposite of Goldin and Avedon's warts-and-all images, Tretick's work is a noteworthy example of unapologetically romantic American portraiture." —Publishers Weekly
"The most eye-opening celebrity biography of our time." —William Safire on His Way: The Unauthorized Biography of Frank Sinatra
"An extraordinary read . . . great history and a great story told." —Lou Dobbs on The Family: The Real Story of the Bush Dynasty
or
Not Currently Available for Direct Purchase