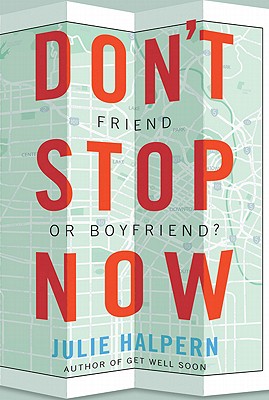 Don't Stop Now (Hardcover)
Feiwel & Friends, 9780312643461, 232pp.
Publication Date: June 7, 2011
Other Editions of This Title:
Paperback (5/26/2015)
* Individual store prices may vary.
Description
On the first day of Lillian's summer-before-college, she gets a message on her cell from her sort-of friend, Penny. Not only has Penny faked her own kidnapping, but Lil is the only one who figures it out. She knows that Penny's home life has been rough, and that her boyfriend may be abusive. Soon, Penny's family, the local police, and even the FBI are grilling Lil, and she decides to head out to Oregon, where Penny has mentioned an acquaintance. And who better to road-trip across the country with than Lil's BFF, Josh. But here's the thing: Lil loves Josh. And Josh doesn't want to "ruin" their amazing friendship.
Josh has a car and his dad's credit card. Lil has her cellphone and a hunch about where Penny is hiding. There's something else she needs to find: Are she and Josh meant to be together?
About the Author
Julie Halpern is the author of "Get Well Soon" and "Into the Wild Nerd Yonder," as well as the picture book "Toby and the Snowflakes." In addition to writing, Julie is a middle-school librarian. She graduated from the University of Wisconsin in Madison, lived in Australia for six months, and created a couple of zines before she started writing books, and realized she was and always has been a writer. She is married to the artist Matthew Cordell, and they live outside Chicago with their daughter and gloriously large Siamese cat, Tobin.
Praise For Don't Stop Now…
"…this novel has well-developed characters and clear insight into relationships….perfect vacation reading." --VOYA "…readers in the mood for a vicarious summer fling will enjoy the ride." --BCCB "Halpern delivers a summer road-trip novel with dark undertones, suggestive of a John Hughes film in its humor, pathos, and keen eye for the teenage mindset." --Publishers Weekly "Halpern's novel of self-exploration is thoughtfully executed and similar in tone to Morgan Matson's Amy & Roger's Epic Detour (2010). Heavier scenes, including Penny's revelations of abuse, are well balanced with humor and entertaining road-trip experiences."--Booklist "The dialogue sounds true without being crude and repetitive, and readers will enjoy narrator Lillian's sharp wit." --Kirkus Reviews  Praise for GET WELL SOON: A Kirkus Reviews Best YA Book of 2007Young Adult Choices 2007 "In funny, easygoing prose, 16-year-old Anna writes letters while spending three difficult, involuntary weeks in a mental institution. … this is an appealingly comic cousin of Carolyn Mackler's The Earth, My Butt, and Other Big Round Things." —Kirkus "Halpern creates a narrative that reflects the changes in Anna with each passing day that includes self-reflection and a good dose of humor. Readers will cheer for Anna as she gains confidence in herself, dares to rebel a little, and gets well as she goes back to her life." —VOYA  Praise for INTO THE WILD NERD YONDER: A 2008-2009 Indie Next Selection "Fans of everything geek will adore Jessie's induction into the world of nerds, one that includes the band geek lunch table, Dungeons & Dragons, and a genuinely fun-filled weekend in a field immersed in a medieval role-playing game. Halpern's story may not hold surprises, but readers aren't hoping for any; besides, Jessie's narration is the real draw…" —The Horn Book "[The] narrative voice is unusually honest, and the at times bawdy dialogue is realistic and bitingly funny…" —Kirkus "Halpern's descriptions of high-school cliques, particularly the punk posers and the D&D fanatics, are hilarious and believable, and characters who seem to fit particular stereotypes suddenly show unexpected traits. The story's theme could easily become clichéd, but this novel is particularly strong in showing how teen friendships evolve and sometimes die away, and how adolescents redefine themselves." —School Library Journal 
or
Not Currently Available for Direct Purchase