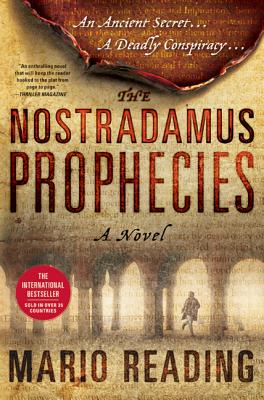 The Nostradamus Prophecies
A Novel
Hardcover

* Individual store prices may vary.
Description
An ancient secret...A deadly conspiracy.

For reader's of Raymond Khoury's The Last Templar, or the works of Dan Brown, this high-octane commercial thriller tells of a hunt for the lost prophecies of Nostradamus and the two men who will do anything to discover their secrets. Nostradamus wrote a thousand prophecies. Only 942 have survived. What happened to the missing quatrains? What secrets did they contain to make it necessary for them to remain hidden? And why did Nostradamus leave his daughter a sealed container in his will? These questions drive two men with very different desires. Adam Sabir is a writer desperate to revive his flagging career; Achor Bale is a member of an ancient secret society that has dedicated itself to the protection and support of the "Three Antichrists" foretold in Nostradamus's verses—Napoleon, Adolf Hitler, and the "one still to come"...The pair embark on a terrifying chase through the ancient Romany encampments of France in a quest to locate the missing verses.
Thomas Dunne Books, 9780312643799, 352pp.
Publication Date: November 23, 2010
About the Author
MARIO READING is an acknowledged expert on Nostradamus and has published five non-fiction titles in the UK on Nostradamus and related topics. The Nostradamus Prophecies has already sold well over 70,000 copies in Britain, 60,000 in Germany in the first week, and over thirty-two foreign rights sales worldwide.