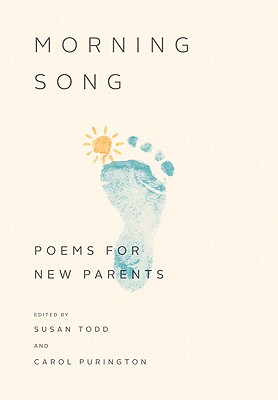 Morning Song
Poems for New Parents
Hardcover

* Individual store prices may vary.
Description
Poignant, inspiring, and full of wisdom, "Morning Song "celebrates the joy a new child brings to the life of parents and family. With sources ranging from the Bible, Sappho, and traditional songs to Dickinson, Yeats, Frost, and our outstanding contemporary poets, this beautiful collection summons the cosmic and the comic, the spiritual and the pragmatic, the whimsical and the divine. Sections such as "Conception and Grace," "Waiting," "Sleep and Song," and "Green and Carefree" evoke the breadth of the parenting experience and capture the emotional intensity of this magical time.
Among the poets included here are:
Billy Collins
Mary Oliver
Richard Wilbur
Sylvia Plath
Galway Kinnell
Natasha Trethewey
Dylan Thomas
Pablo Neruda
James Merrill
John Berryman
Kay Ryan
Alice Walker
Jane Kenyon
Rita Dove
Mary Jo Salter
Sharon Olds
An ideal gift book for any parent-to-be, this classic collection will become a treasured companion during the many hours spent waiting and caring for a child.
Praise For Morning Song: Poems for New Parents…
Praise for Morning Song
"While there's no denying this treasury's value as a gift book, it's of equal or greater value to every good library of poetry."--Booklist, starred review
"I know of no other anthology like it. I can imagine any number of friends and relatives giving it to new parents. It's not a bunch of poems about babies, but great poems about the trajectories of new lives. When I began reading, I remembered being on the 2 a.m. feeding, rocking the baby with his bottle. How wonderful it would have been to have that book at that hour."---Tracy Kidder, Pulitzer Prize--winning author

"I am delighted to be included in a book that is such a good idea and such an excellent collection."---Mary Oliver, Pulitzer Prize--winning author of American Primitive

"Morning Song is a wonderful gathering of poems that, though intended for new parents, is not fixated on crib and stroller but speaks, rather, to "the inner life of mothers and fathers." The poems chosen are a fresh, abundant harvest of the new and the old, the plain and the lofty, the great and the little known, but all that variety is pervaded by the editors' devotion to love and life."---Richard Wilbur, Pulitzer Prize--winning author of Things of This World and New and Collected Poems
"This marvelous, much-needed anthology will cast a lasting glow over new parents and children alike, not to mention the relatives and friends who care for them."---Stephen Young, program director of The Poetry Foundation
"Who better than our most beloved poets to translate all that is unspeakable about our most beloved children---this joy and terror, this terrible love that has bewitched us---into words, into grace. I read the collection in one sitting and then lurched out of bed to watch my own sleeping babies and sigh into the moonlight."---Catherine Newman, author of Waiting for Birdy: A Year of Frantic Tedium, Neurotic Angst, and the Wild Magic of Growing a Family

"The birth of a child is an event so extraordinary that parents often lack the words to describe their thoughts and feelings. Collecting some of the finest poems ever written on birth and childhood, Morning Song not only articulates but also expands and refines our sense of the miracle of new life."---Dana Gioia
"This collection is poignant, inspiring, thoughtful and fun." --
Deseret News
St. Martin's Press, 9780312644260, 265pp.
Publication Date: April 26, 2011
About the Author
Susan Todd graduated from Smith College and was an elementary school teacher for many years before becoming head of the Heath School in Heath, Massachusetts. She was a founding editor of "Parents' Choice "magazine and a contributing editor of "FamilyFun "magazine. Susan lives in Ashfield, Massachusetts. Carol Purington has published two books of haiku and three books of tanka. She lives on a multigeneration farm in Colrain, Massachusetts.
or
Not Currently Available for Direct Purchase