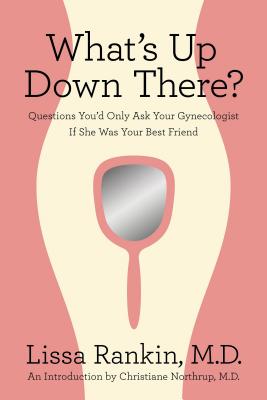 What's Up Down There?
Questions You'd Only Ask Your Gynecologist If She Was Your Best Friend
Paperback

* Individual store prices may vary.
Description
In this funny, outrageous and empowering book, Dr. Lissa Rankin answers all the secret gynecological questions that most women wonder about, but have always been afraid to ask.
Suppose you had a wise, warm, funny best friend-who just happened to be a gynecologist. You're out with the girls for cocktails and the conversation turns to sex, and then to girly parts. One by one, you start asking her all the questions you've secretly wondered about-and discover that you have a lot in common. If you were to write those questions down, then you'd have What's Up Down There?, a life-changing little book that answers:
- Do old ladies have saggy vaginas?
- How do male gynecologists have a sex life without feeling like they're stuck at the office?
- Is it normal for your inner labia to hang out of your outer labia?
- Can the baby feel its mom having sex during pregnancy?
- How common is it for one's boobs to be two totally different sizes?
And so much more! As outrageously funny as it is empowering, this book reveals how to love yourself and your body-and will have you recommending it to every woman you know. From off-the wall sex questions to serious topics of women's sexual health, What's Up Down There? provides answers to women of all ages and stages.
Praise For What's Up Down There?: Questions You'd Only Ask Your Gynecologist If She Was Your Best Friend…
"Imagine sitting next to a warm, charming, funny gynecologist on a seven-hour flight where they're handing out free cocktails. Reading What's Up Down There is that sort of experience: delightful, giddy, memorable and illuminating. What a wonderful book." —Mary Roach, New York Times bestselling author of Stiff and Bonk
"Once in a generation there's a book like no other. You're holding it in your hand. Buy it. Bet you'll love it. Bet you'll read it more than once. Bet you laugh and cry each time you do" —Rachel Naomi Remen, MD, bestselling author of Kitchen Table Wisdom
"Lissa Rankin is a sassy, brilliant, articulate, funny, fun, loving genius. Every woman must read this NOW." —Regena Thomashauer, author of Mama Gena's School of Womanly Arts
"Dr. Lissa Rankin provides answers to the questions every woman always wants to ask her doctor--and some that they've never thought to ask, but should. Best of all, she does it with both humor and style." —John Gray, New York Times bestselling author of Men Are from Mars, Women Are from Venus
"Dr. Lissa Rankin is a woman's health visionary, and What's Up Down There? is just what every woman needs: a gynecologist girlfriend who answers the kinds of questions that women are still afraid to ask. This book is a pleasure. Read it. You'll see." —Christiane Northrup, M.D., New York Times bestselling author of Women's Bodies, Women's Wisdom
"I laughed, I cried, I wanted to throw my arms around Lissa Rankin and thank her wildly! What's Up Down There is a book of rare honesty, comfort and humor that casts a feminine eye on the most powerful and vulnerable part of the female body.. What's Up Down There has everything I've ever wanted to know about vaginas but was too shy to ask!" —Sheila Kelley, author of The S Factor
"Dr. Lissa has served up one of the hippest, coolest, straight speaking books on women's genital health, function and fun. Finally!!!" —Lou Paget, bestselling author of How to be a Great Lover
"Dr. Lissa Rankin has written a courageous book, providing information about topics that few others are willing to tackle. And when she doesn't know the answer, she says so, giving us all the more reason to trust the answers she does give. What's Up Down There dispels myths while reminding us of the beauty and mystery of our girl-bodies." —Diana Daffner, author of Tantric Sex for Busy Couples
"Lissa is that approachable OB/GYN we all wish we had. In this frank, enlightening, funny book (you know you're in for a treat when the table of contents makes you laugh) she answers all those questions and every other question I've ever had about my girly bits in 30 years of being a woman, 20 years of being a lover (sorry if that's too much information mum) and 5 years of being a mother." —Lorraine Regel, co-author of The Survival Guide for Rookie Moms
"With humor, honesty, personal candor, and professional expertise, Lissa Rankin breaks through the shame and discomfort most of us feel about discussing the most intimate of subjects. She makes shocking feel comfortable, outrageous becomes commonplace, confusing becomes simpler and suddenly, discussing menstruation, birth control, genital piercing, and so much more, is like a conversation with a great friend over coffee." —Elissa Stein, author of Flow: The Cultural Story of Menstruation
"Yes, I know What's Up Down There is written for women, but I read it cover to cover, with the kind of ghoulish fascination most men have when contemplating the mysteries of the female body. And it delivered, providing answers to the kinds of questions every guy I know has wondered about, but wouldn't dare ask the women in our lives. Lissa's approach is so straightforward, so funny, and so reassuring that it made me want to dump my own primary care doc and see her instead." —Armin Brott, bestselling author of The Expectant Father
"Lissa Rankin transitions from doctor to BFF without missing a beat, tackling even our most embarrassing questions with the utmost candor and without a speck of judgment. She rips off the flimsy paper sheet we've used to cover any unfounded shame or confusion we've experienced for being female. Embarrassing? Try empowering!" —Jory Des Jardins, co-founder of BlogHer
"Every woman needs to be open and honest about her body with her gynecologist. This book answers important questions you may have been afraid or embarrassed to ask. Every woman's body is magnificient and needs to be honored and treated with loving care by her doctor and herself." —Judith Orloff, M.D., author of Emotional Freedom
St. Martin's Griffin, 9780312644369, 400pp.
Publication Date: September 28, 2010
About the Author
Lissa Rankin, M.D. is a practicing gynecologist and the founder of The Owning Pink Center in Mill Valley, CA, which is dedicated to redefining what it means to be healthy, vibrant and alive as a woman in the Twenty-first century. She is the author of What's Up Down There? Questions You'd Only Ask Your Gynecologist If She Was Your Best Friend.