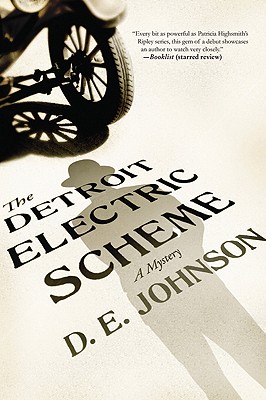 The Detroit Electric Scheme (Hardcover)
A Mystery
Minotaur Books, 9780312644567, 320pp.
Publication Date: September 14, 2010
Other Editions of This Title:
Paperback (9/14/2010)
* Individual store prices may vary.
Description
Will Anderson is a drunk, heartbroken over the breakup with his fiancée, Elizabeth. He's barely kept his job at his father's company---Detroit Electric, 1910's leading electric automobile manufacturer. Late one night, Elizabeth's new fiancé and Will's one-time friend, John Cooper, asks Will to meet him at the car factory. He finds Cooper dead, crushed in a huge hydraulic roof press. Surprised by the police, Will panics and runs, leaving behind his cap and automobile, and buries his blood-spattered clothing in a garbage can.
What follows is a fast-paced, detail-filled ride through early-1900s Detroit, involving murder, blackmail, organized crime, the development of a wonderful friendship, and the inside story on early electric automobiles. Through it all, Will learns that clearing himself of the crime he was framed for is only the beginning. To survive, and for his loved ones to survive, he must also become a man.
The Detroit Electric Scheme is populated with fascinating characters, both real and fictional, from a then-flourishing Detroit: The Dodge brothers and Edsel Ford come to life, interacting with denizens of the sordid underbelly of the Motor City, such as Vito Adamo, Detroit's first Mob boss, and Big Boy, the bouncer at a saloon so notorious the newspapers called it "The Bucket of Blood." This expertly plotted debut delivers with great research, wonderfully flawed yet likable characters, and a shattering climax.
About the Author
D. E. Johnson has been writing fiction since childhood. He comes by his interest in automotive history through his grandfather, who was the vice president of Checker Motors. Johnson lives near Kalamazoo, Michigan, with his family and is working on the sequel to "The Detroit""Electric Scheme." Visit his Web site at www.dejohnsonauthor.com.
Praise For The Detroit Electric Scheme: A Mystery…
"The surprise ending leaves you gasping and shaking your head at Johnson's masterful plotting and the menacing tension that forces otherwise good characters to behave despicably. Every bit as powerful as Patricia Highsmith's Ripley series, this gem of a debut showcases an author to watch very closely."--Booklist (starred review)
"...an empathetic hero and an abundance of interesting historical detail should keep readers engaged." -- Kirkus Reviews
"...absorbing." -- The Seattle Times
"...an action-packed historical mystery propelled forward by intriguing characters, thought-provoking moral conundrums, and a gripping plot. Johnson is so skilled a writer that the race for supremacy between the manufacturers of electric and gasoline-powered automobiles is every bit as exciting as the chase through the streets of Detroit to find a ruthless killer. This remarkable debut novel will give you a thrilling ride, and leave you wanting more."
--Historical Novels Review (Editor's Choice)
"D.E. Johnson's terrific debut brilliantly captures the dangerous underbelly of 1910 Detroit's fast-growing automobile industry.  A well-plotted mystery filled with memorable characters and taut suspense, The Detroit Electric Scheme makes for a compelling read." --Stefanie Pintoff, Edgar-award-winning author of In the Shadow of Gotham and A Curtain Falls
"Johnson makes a stunning debut, taking us to a time and place so very different from our own—and yet so very much the same.  Will Anderson must fight his demons—both internal and external—in order to save his life and the woman he loves from someone intent on destroying them both.  Follow him through the dark and dangerous streets of a very different Detroit than the one we know today as he tries to find a mysterious killer before becoming a victim himself."--Victoria Thompson, author of Murder on Lexington Avenue
"The Detroit Electric Scheme is thoroughly enjoyable.  What Johnson has accomplished is nearly magical: He has marvelously created the old Detroit, made it come to life in a way that is recognizable, and yet is totally new.  This is a completely convincing, believable historical place, populated by attractive and fascinating characters.  More than that, Johnson has a done a magnificent job of presenting the early days of a great industry without falling into the trap of merely giving a history lesson. The Detroit Electric Scheme is a phenomenal debut."--Jon A. Jackson, author of Badger Games and The Diehard
 "D.E. Johnson's impeccable research drives this crackling tale of murder set in Detroit's infant auto industry. Like the electric Victoria that Will Anderson drives, The Detroit Electric Scheme jolts you into a dangerous world of suspense and intrigue." -- Rebecca Cantrell, award-winning author of A Trace of Smoke
 "The Detroit Electric Scheme is a jaunt through turn of the century Detroit and a window into the launch of the automotive industry. Swiftly paced and peopled with fascinating, darkly colorful characters, Johnson treats the reader to a compelling mystery laced with vivid historical detail. It's a historical mystery in high gear!-- Ann Stamos, author of Bitter Tide
 "The Detroit Electric Scheme is a Les Miserables for the American Experience:  Part Noir, part a tale of obsession and persecution, and all historically sound, it explores a forgotten yet crucial chapter in the development of the Industrial Revolution, and ultimately the American Century.  If you liked Dennis Lehane's The Given Day, you'll waste no time devouring The Detroit Electric Scheme." -- Loren D. Estleman, author of Alone, The Branch and the Scaffold and Frames
 "A good mystery novel must combine intriguing characters and a page-turning plot. A truly fine mystery novel, in addition to those elements, will also feature strong writing and a setting that makes the reader wonder why no one has set a mystery against such a fascinating background before. Dan Johnson's Electric blends all those elements into an impressive debut novel that makes me eager for the next one." --Albert A. Bell, Jr., author of The Blood of Caesar
"...a page-turning odyssey through the Detroit underworld...an entertaining and briskly told tale..." -- Hour Detroit magazine
or
Not Currently Available for Direct Purchase