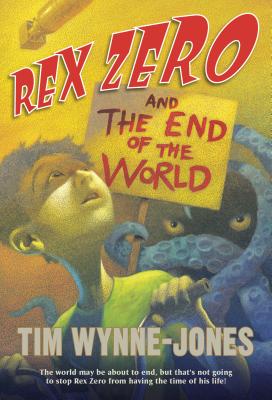 Rex Zero and the End of the World
Paperback

* Individual store prices may vary.
Other Editions of This Title:
Prebound (3/5/2013)
Hardcover (2/20/2007)
Description
"Who wouldn't want to spend time with the . . . eccentric Norton-Nortons?"—M. T. Anderson
Why does everyone seem so scared? That's what the new boy in town, Rex Norton-Norton, aka Rex Zero, wonders as he rides his bike through Ottawa's streets. Is it spies? Kidnappers? Or is it because of the shadowy creature some say is stalking Adams Park? One thing is certain in this summer of 1962 as the Cold War heats up: nothing is quite what it seems. What's a boy to do? If his name is Rex Zero and he has a bike he calls "Diablo," five wild and funny siblings, an alpha dog named Kincho, a basement bomb shelter built of old Punch magazines, and a mind that turns everything inside out, he's bound to come up with an amazing idea.
With its mystery, adventure, laugh-out-loud scenes of family chaos, and underlying message of hope, this wonderfully original novel from Tim Wynne-Jones explores the impact of doomsday on the imagination of one smart and funny twelve-year-old boy.
Praise For Rex Zero and the End of the World…
"Who wouldn't want to spend time with the wonderfully observed, engagingly eccentric Norton-Nortons? As always, Wynne-Jones' eye for odd and telling detail creates a fantastically charming cast of characters that demand attention as they claim to be mutant zombie hunters, photographers of the impossible, prophets of doom, and, in the case of Rex Zero, himself, just a kid trying to get along in a Cold War world gone mad." —M.T. Anderson
"Brilliant in its near stream-of-consciousness depiction of the world as Rex sees it . . . The meticulous plotting sets the enormity of world destruction against the equally cataclysmic concerns of childhood. It's a historic narrative that resonates eerily and effectively today." —The Horn Book, Starred Review
"Wynne-Jones writes with a light, often humorous touch and maintains a perspective true to an 11-year-old's perspective. This winning hero paints a universe both hopeful and realistic, one that readers may well want to visit." —Publishers Weekly, Starred Review
"Delightfully nerve-wracking, eccentric and optimistic." —Kirkus Reviews
"The sense of looming doomsday will hold readers, as will the timeless drama of moving and trying to fit in." —Booklist
"A fast-moving, quirky romp through apocalyptic anxiety." —The Bulletin of the Center for Children's Books
"Eccentric and charming." —VOYA
"An unusual and appealing title." —School Library Journal
Square Fish, 9780312644604, 208pp.
Publication Date: March 5, 2013
About the Author
Tim Wynne-Jones
Writing a bio in the first person always makes me think of those boring people who back you into a corner at a party and tell you about themselves. The worst part is that they invariably situate themselves between you and the chips. I like chips. I like food. I love cooking. And crossword puzzles and cross-country skiing, although I make a point of not trying to do these activities at the same time.
I started writing when I was in my twenties. Never dreamed of becoming an author. Oh, I loved reading, but I had known since I was eleven that I was going to be a world-famous architect when I grew up, so I never took my writing very seriously. Besides, I failed high school English. But the university where I was training to become a world-famous architect thought it might not be such a good idea for me to design buildings into which real people might actually stray by mistake. So I turned to making art, which led to an M.F.A., which is when I realized that if I wasn't careful, I was going to end up being offered a teaching job! So I wrote a novel very quickly.
Winning the $50,000 Seal First Novel Award in 1980 convinced me to put aside my designing, acting, singing, painting, teaching career and take writing seriously. Twenty-six books later, I'm still doing it and still loving it.
I've won lots of awards. Oh, here -- can I get you the chips? You just munch away and I'll tell you all about my honors: a couple of Governor General's Literary Awards in Canada; three Canadian Library Association Prizes; the Arthur Ellis Award -- that's from the Crime Writers of Canada; the Edgar Award for Young Adult Mystery from the Mystery Writers of America; the Boston Globe-Horn Book Award; and I've twice been short-listed for the Guardian Children's Fiction Prize in the U.K. . . . Are you feeling woozy yet?
I've written three adult novels, but I got over that. I've also written a dozen picture books, three collections of short stories, and five novels for older readers, including A Thief in the House of Memory. The last novel before that was The Boy in the Burning House. Notice the house thing? You see? I'm still obsessed with architecture. The next title almost had a house in it, but I changed it to Rex Zero and the End of the World. It's pretty funny, I think, considering it's about the end of the world. I've already written the sequel, Rex Zero, King of Nothing.
Oh, don't go. Please! I haven't told you about my three very talented grownup kids and my wonderful wife and the cats and the seventy-six acres of land just outside of Perth, Ontario. I've got lots of pictures. Some other time? Okay.
Tim Wynne-Jones lives near Perth, Ontario, with his wife, Amanda, in a house he designed himself.