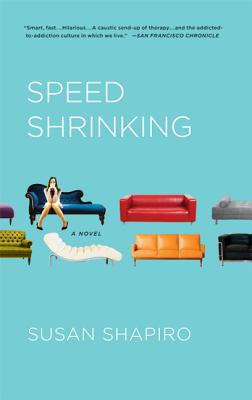 Speed Shrinking (Paperback)
A Novel
St. Martin's Griffin, 9780312644727, 320pp.
Publication Date: July 20, 2010
Other Editions of This Title:
Hardcover (8/4/2009)
* Individual store prices may vary.
Description
"Proust had a cookie. Susan Shapiro has a cupcake—and a really hilarious book."
—Patricia Marx, author of Him, Her, Him Again, the End of Him
In Susan Shapiro's laugh-out-loud funny fictional debut Speed Shrinking, Manhattan self-help author Julia Goodman thinks she's got her addictive personality under control. Then her beloved psychoanalyst moves away at the same time her husband takes off to L.A. and her best friend gets married and moves to Ohio.
Feeling lonely and left out, Julia fills in the void with food, becomes a cupcake addict, and blimps out. This is a huge problem—especially since she's about to go on national television to plug her hot new self-help book about how she conquered her sugar addiction.
Navigating her insurance network, Julia desperately sees eight shrinks in eight days, speed-dating for Dr. Replacement—or any other new guru—to help shrink back her body and anxiety in time for her close-up.
About the Author
SUSAN SHAPIRO is the author of Overexposed, Speed Shrinking, Five Men Who Broke My Heart, Lighting Up, and Only as Good as Your Word. She lives with her husband, a TV/film writer, in Greenwich Village, where she teaches her popular "instant gratification takes too long" classes at The New School, NYU and private workshops.
Praise For Speed Shrinking: A Novel…
"Proust had a cookie. Susan Shapiro has a cupcake—and a really hilarious book." —Patricia Marx, author of Him, Her, Him Again, the End of Him
"Susan Shapiro does for therapy and food what Candace Bushnell did for sex and shoes." —Guy Nicolucci, writer for Late Night with Conan O'Brien
"A powerful, soulful, laugh-out-loud delight." —Ian Frazier, author of Dating Your Mom
"A hilarious search for Dr. Right. Susan Shapiro makes neuroticism fun." —Amy Alkon, of AdviceGoddess.com
"A smart, fun, hyperactive page-turner that'll keep you on your mental toes." —Valerie Frankel, author of Thin Is the New Happy
"Spills the secret of why women who have it all still overdose on cupcakes. Frothy, funny, sly, and street-smart." —Susan Jane Gilman, author of Hypocrite in a Pouffy White Dress