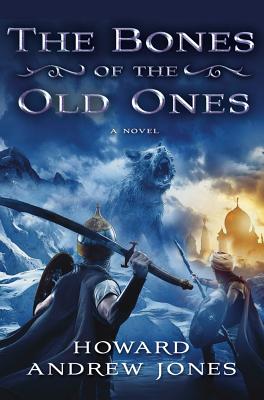 The Bones of the Old Ones (Hardcover)
Thomas Dunne Books, 9780312646752, 307pp.
Publication Date: December 11, 2012
Other Editions of This Title:
MP3 CD (6/14/2016)
* Individual store prices may vary.
Description
A thrilling, inventive follow-up to "The Desert of Souls" by Howard Andrew Jones, a "rare master of the storyteller's art" (Greenmanreview.com)
As a snowfall blankets 8th century Mosul, a Persian noblewoman arrives at the home of the scholar Dabir and his friend the swordsman Captain Asim. Najya has escaped from a dangerous cabal that has ensorcelled her to track down ancient magical tools of tremendous power, the bones of the old ones.
To stop the cabal and save Najya, Dabir and Asim venture into the worst winter in human memory, hunted by a shape-changing assassin. The stalwart Asim is drawn irresistibly toward the beautiful Persian even as Dabir realizes she may be far more dangerous a threat than anyone who pursues them, for her enchantment worsens with the winter. As their opposition grows, Dabir and Asim have no choice but to ally with their deadliest enemy, the treacherous Greek necromancer, Lydia. But even if they can trust one another long enough to escape their foes, it may be too late for Najya, whose soul is bound up with a vengeful spirit intent on sheathing the world in ice for a thousand years...
""The Bones of the Old Ones" is a damn good tale that not only pays homage to the masters, but sets its own print on the genre." --SF Signal
"This rousing sequel to The Desert of Souls offers a melange of ancient adventure myths populated by convincing, endearing characters As intricately woven as the magic carpet of Greek sorceress Lydia, Jones's tale incorporates real historical personages and settings like Mosul of "haggard beauty" from the early days of Islam, and fills the pages with gallantry and glamour to provide a thrilling spectacle." "Publishers Weekly," starred review.
About the Author
HOWARD ANDREW JONES is the acknowledged expert on fiction writer Harold Lamb. He is the Managing Editor of "Black Gate" magazine, and he blogs regularly at its website.
Praise For The Bones of the Old Ones…
Praise for Bones of the Old Ones
"The Bones of the Old Ones is a damn good tale that not only pays homage to the masters, but sets its own print on the genre." --SF Signal
"This rousing sequel to The Desert of Souls offers a mélange of ancient adventure myths populated by convincing, endearing characters… As intricately woven as the magic carpet of Greek sorceress Lydia, Jones's tale incorporates real historical personages and settings like Mosul of "haggard beauty" from the early days of Islam, and fills the pages with gallantry and glamour to provide a thrilling spectacle." –Publishers Weekly, starred review
"By turns groundbreaking and classical, Howard Andrew Jones is a pure joy to read." - Nebula and Campbell Award finalist Saladin Ahmed
"A thumbs-up for series fans." --Kirkus
"Jones is a resurrector of unfairly forgotten tales and an illuminator of a neglected milieu. His love for the setting of the Dabir and Asim stories is as obvious as his grasp of classic sword-and-sorcery forms. The result is something rich and brisk at the same time, just as it ought to be." –Scott Lynch, author of Red Seas Under Red Skies
"The Bones of the Old Ones is one lovely fantastical adventure, blending mystery, romance and magic in such a way that I had to keep reading.  There were moments of laughter, passion, and edge-of-my-seat surprises.  A fabulous read!" --Elizabeth Vaughan, USA Today bestselling author of the Chronicles of the Warlands series
"In the midst of a sea of Tolkein clones, Howard A. Jones stands out with his Arabian Nights inspired detective stories. Rollicking, and magical. What more could you want?" --Mary Robinette Kowal, Hugo and Campbell Award Winner
Praise for Howard Andrew Jones
"Like the genie of the lamp, Howard Jones has granted this reader's wish for a fresh, exciting take on the venerable genre of sword-and-sorcery!" --Richard A. Knaak, New York Times and USA Today bestselling author of Legends of the Dragonrealm
"Howard Jones wields magic like a subtle blade and action like a mighty cleaver in his scimitars and sorcery tale, weaving together Arabian myth, history, and some honest-to-gosh surprises to create a unique story that you'll not soon forget."  -- Monte Cook, author of The Dungeon Masters Guide, 3rd Edition
"A rousing tale of swords against sorcery. Howard Jones writes with wit and flair. His world is involving, authentic and skilfully evoked. The best fantasy novel I have read all year." -- William King, Author of the Space Wolf trilogy and creator of Gotrek and Felix
"Howard Jones proves himself a rare master of the storyteller's art, a talent uncommon even amongst successful novelists." –Greenmanreview.com
"Smooth and effortless, with a definite middle-eastern flair, I fell in love with Jones's style and his skill at weaving adventure, action, wit, religion, and realism into a cohesive story.." -- hippogriff.wordpress.com
"His grand sense of storytelling [makes] Howard Andrew Jones a writer to be reckoned with for many years to come." -- roguebladesentertainment.com
"Jones's writing style makes one feel as if they're listening to someone with incredible narrative talent telling a story... In Jones's hands, the characters come to vivid life… and it's easy to feel as if you've been transported back to early Baghdad as well." –FreshFiction.com
or
Not Currently Available for Direct Purchase