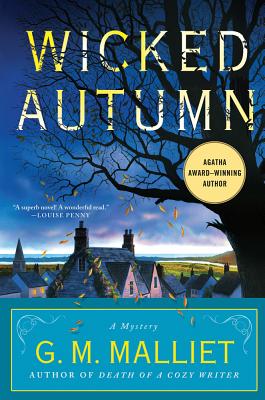 Wicked Autumn (Hardcover)
A Max Tudor Novel
Minotaur Books, 9780312646974, 320pp.
Publication Date: September 13, 2011
* Individual store prices may vary.
Description
What could be more dangerous than cozy village life in the English countryside? 
Max Tudor has adapted well to his post as vicar of St. Edwold's in the idyllic village of Nether Monkslip. The quiet village seems the perfect home for Max, who has fled a harrowing past as an MI5 agent. Now he has found a measure of peace among urban escapees and yoga practitioners, artists and crafters and New Agers. But this new-found serenity is quickly shattered when the highly vocal and unpopular president of the Women's Institute turns up dead at the Harvest Fayre. The death looks like an accident, but Max's training as a former agent kicks in, and before long he suspects foul play. 
Max has ministered to the community long enough to be familiar with the tangled alliances and animosities among the residents, but this tragedy surprises and confounds him. It is impossible to believe anyone in his lovely village capable of the crime, and yet given the victim, he must acknowledge that almost everyone had probably fantasized about killing Wanda Batton-Smythe.
As the investigation unfolds, Max becomes more intricately involved. Memories he'd rather not revisit are stirred, evoking the demons from the past which led him to Nether Monkslip. In WICKED AUTUMN, G.M. Malliet serves up an irresistible English village—deliciously skewered—a flawed but likeable protagonist, and a brilliantly modern version of the traditional drawing room mystery.One of The Boston Globe's Best Mysteries of 2011 One of Library Journal's Best Mystery Books of 2011
About the Author
Winner of the Agatha Award for "Death of a Cozy Writer, "which initially won the Malice Domestic grant, G.M. MALLIET attended Oxford University and holds a graduate degree from the University of Cambridge, the setting for her previous series, the St. Just mysteries.
Praise For Wicked Autumn: A Max Tudor Novel…
"Malliet has mastered the delights of the cozy mystery so completely that she seems to be channeling Agatha Christie... [with] ironic humor that contribute[s] a little spice to the village charm, making the story even more delicious. Religion, espionage, tea, and crumpets: a winning menu." --Booklist, starred review "Agatha Award–winning author Malliet (Death of a Cozy Writer) debuts a superb new series... You'll marvel at the author's low-key humor and crystal-clear depictions of small-town life...  Malliet, like Louise Penny, brings a contemporary freshness to the traditional mystery."
--Library Journal, starred review  "Hugely funny, exquisitely well written, Wicked Autumn is a tongue-in-cheek village mystery to be savored.  G.M. Malliet's arch tone and wry humor make her a writer to be treasured."
--Julia Spencer-Fleming, bestselling author of ONE WAS A SOLDIER

"A superb novel!  Filled with humor and insight, G.M. Malliet creates a fabulous setting in Nether Monkslip and a great series hero in Father Max Tudor.  Rarely have I read descriptions that have left me gasping, in both their hilarity and their painful truth.   A wonderful read." --Louise Penny, Agatha award–winning author of the Armand Gamache mysteries

"One of the most delightful English village mysteries I've read since Agatha Christie stopped writing about Saint Mary Mead.  G.M. Malliet's sly allusions to both Miss Marple and Hercule Poirot will make Christie fans chuckle, but Nether Monkslip is no village that time forgot—not with its new age citizenry and a vicar who's a dishy ex-MI5.  Highly recommended."
--Margaret Maron, Edgar, Anthony, Agatha winner,  and author of CHRISTMAS MOURNING

"A contemporary and deliciously wicked homage to Agatha Christie's village mysteries, with an equally delicious hero who is infinitely sexier than Miss Marple.  Once readers meet handsome, intelligent, witty MI5 spy-turned-Anglican priest Max Tudor, they'll be searching their maps for the village of Nether Monkslip!"--Deborah Crombie, New York Times bestselling author of NECESSARY AS BLOOD

"G. M. Malliet has brought the village cozy into the 21st century--where else could the Vicar be retired from MI5? Written with dry humor and a wickedly accurate portrait of the modern English village, Wicked Autumn is a refreshing and fun read for everyone who loves a really good murder." --Charles Todd, NY Times Best-selling author of the Inspector Ian Rutledge Series
or
Not Currently Available for Direct Purchase