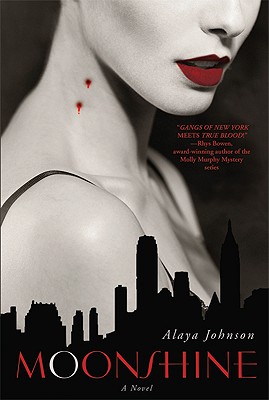 Moonshine (Paperback)
Griffin, 9780312648060, 278pp.
Publication Date: May 11, 2010
Other Editions of This Title:
Hardcover (2/16/2010)
* Individual store prices may vary.
Description
"Imagining vampires at the heart of the social struggles of 1920s, "Moonshine "blends a tempestuous romance with dramatic historical fiction, populated by a lively mythology inhabiting the gritty New York City streets
"Zephyr Hollis is an underfed, overzealous social activist who teaches night school to the underprivileged of the Lower East Side. Strapped for cash, Zephyr agrees to help a student, the mysterious Amir, who proposes she use her charity worker cover to bring down a notorious vampire mob boss. What he doesn't tell her is why. Soon enough she's tutoring a child criminal with an angelic voice, dodging vampires high on a new blood-based street drug, and trying to determine the real reason behind Amir's request--not to mention attempting to resist his dark, inhuman charm.
About the Author
ALAYA JOHNSON is a recent Columbia graduate, and denizen of New York City.
Praise For Moonshine…
"Moonshine is an utterly captivating novel, depicting a richly detailed 1920s alternative New York City inhabited by social activists, feminists…and Others--vampires, fairies, and the occasional, charming genie, as vampire-suffragette Miss Zephyr Hollis discovers. A fabulous entertainment."
--Ellen Datlow, multi award-winning editor
"I love Zephyr Hollis and the magical version of New York she lives in.  Johnson's new series is witty, fun, and stuffed with delicious tidbits of history and mythic lore."
-Terri Windling, award-winning author of THE ARMLESS MAIDEN
"I hope Zephyr Hollis's adventures have only begun. I want more!"
--Emma Bull
, author of WAR FOR THE OAKS
"A rip roaring romp through a fascinating period in history and a thoroughly enjoyable read…a winner!"
--Karen Chance,
author of THE CASSANDRA PALMER SERIES
"A page-turning delight, with bicycles and enchanted blades, drug wars and settlement evening schools, romance and heartbreak. Move over, Buffy and Anita, and make room for Zephyr Hollis!"
--Sarah Smith,
author of THE VANISHED CHILD
"In Alaya Johnson's gripping, fast moving story, historical accuracy smoothly blends with outrageous fantasy: Gangs of New York meets True Blood!"
--Rhys Bowen,
author of A GILDED CAGE
,
 the Molly Murphy Mystery Series
"Alaya Johnson has broken new ground with a book that combines a fascinating time in history with our favorite mythological creatures - vampires".
--Terri Persons,
author of BLIND SPOT and BLIND RAGE
"Vampires and vamps; welcome to a Roaring '20s New York where the undead go to night school, and speakeasies serve up the occasional bathtub djinn… a first novel to delight fans of Buffy and Harry Dresden." 
--Gregory Frost
, author of SHADOWBRIDGE and LORD TOPHET
or
Not Currently Available for Direct Purchase