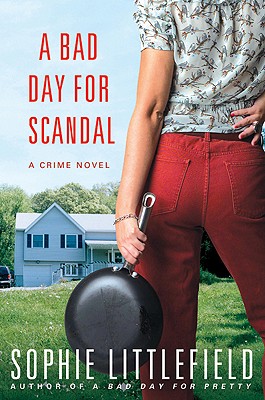 A Bad Day for Scandal: A Crime Novel (Hardcover)
A Crime Novel
Minotaur Books, 9780312648374, 304pp.
Publication Date: June 21, 2011
* Individual store prices may vary.
or
Not Currently Available for Direct Purchase
Description
When Prosper homegirl turned big-city businesswoman Priss Porter returns to town with a body in her trunk, she calls Stella Hardesty to dispose of it. Her uppity ways don't convince Stella to take the job, and Priss attempts to blackmail her with a snapshot of Stella doing what she does best: curing woman-beaters by the use of force.      
Stella refuses to cooperate and goes home, only to hear later that Priss and her brother, Liman, have gone missing after calling in a disturbance. Stella is implicated when Sheriff "Goat" Jones discovers the scarf she left behind at the house. He warns her to stay local but Stella and her partner, Chrissy Shaw, go looking for Priss in Kansas City, where they discover that she runs an unusual business. When Priss herself—along with two other bodies—turns up in a pond belonging to one of Stella's ex-clients, Stella must investigate a host of suspects, including a crooked but libidinous female judge, a coterie of jealous male escorts, and a Marxist ex-professor.
A Bad Day for Scandal is the third in Sophie Littlefield's award-winning, critically acclaimed series. Written with passion, humor, and guts, this is a mystery to be savored.
About the Author
Sophie Littlefield grew up in rural Missouri. Her first novel, "A Bad Day for Sorry"," " won an Anthony Award for Best First Novel and an RT Book Award for Best First Mystery. It was also shortlisted for Edgar, Barry, Crimespree, and Macavity Awards. The second in the series, "A Bad Day for Pretty, " was named a "New York Times" Notable Book. Sophie lives near San Francisco, California.
Praise For A Bad Day for Scandal: A Crime Novel…
"This is the author's third comic novel starring brassy Stella Hardesty....You have to root for a gal who can hunt down murder suspects--and lust after local sheriff Goat Jones--without rumpling her Spanx Hide & Sleek Hi-Rise Panty."--AARP: The Magazine "This caper is more fun than eating cotton candy on a Ferris wheel. Littlefield's zesty dialog and astute observations make this irreverent third series entry (after A Bad Day for Sorry and  A Bad Day for Pretty) fly by. The zaniness evokes Janet Evanovich or Harley Jane Kozak; the story itself, Ben Rehder, who writes so well about good old boys behaving badly."--Library Journal

"If we all had mothers like Stella, this would be a better world. Fans of quirky mysteries straddling the line between tough and funny need to grab a Littlefield pronto."--Kirkus Reviews

"Littlefield's eccentric cast of characters grows richer with each book, and Stella continues to dazzle with her wit, charm, and ease with firearms."--Publishers Weekly "Fiftyish Stella...continues to carry the day, as always, in this sassy mix of comedy and mystery."--Booklist
"It's great to visit with vigilante Stella Hardesty and her friends and foes once again. As usual Littlefield tucks themes of empowerment and sisterhood in between the chase scenes and small-town shenanigans. She also tells a darned good comic adventure story."--RT Book Reviews (4 stars)
"Sophie Littlefield hits solid gold with A Bad Day for Scandal. Stella Hardesty is a funny and endearing heroine—with just a hint of Dirty Harry thrown in. The true-to-life dialogue moves at a quick clip and the mystery will keep you turning the pages way past bedtime. Bottom line: Don't mess with Stella Hardesty—and don't miss this gem of a book."— Linda Castillo, New York Times bestselling author of Pray for Silence
"Sophie Littlefield is a major talent whose complex characters, brilliant dialogue and captivating style make for an engrossing—and at times fabulously irreverent—series that gets better with every book!  This is contemporary crime fiction at its finest."--
New York Times
bestselling author Kate Carlisle
"Hooray for Sophie Littlefield for creating such a real, funny, and complex protagonist in Stella Hardesty. I can't wait for the next BAD DAY, and Stella's newest quest for off-brand justice."--
New York Times
bestselling author Susan Donovan
In Edgar-finalist Littlefield's lively third crime novel featuring feisty Stella Hardesty (after 2010's A Bad Day for Pretty), Priscilla "Priss" Porter asks Stella to get rid of a corpse. When Stella, who specializes in solving problems of the abusive husband variety in her small Missouri town, refuses to help, Priss threatens to go public with some very damning photos that could not only damage Stella's budding relationship with Sheriff Goat Jones but maybe even land her in jail. After Priss; her brother, Liman; and the photos vanish, Stella becomes the prime suspect. Stella and her assistant, Chrissy Shaw, decide to get the photos back themselves, but that's easier said than done when they run up against an oversexed female judge with ties to Priss and Priss's new business venture. Littlefield's eccentric cast of characters grows richer with each book, and Stella continues to dazzle with her wit, charm, and ease with firearms.
With things heating up between self-styled vigilante Stella Hardesty and sexy sheriff Goat Jones, Stella finds both her relationship and her livelihood at risk by the possibility of blackmail. Priss Porter, generally disliked for turning her back on Prosper, Missouri, returns to the small town and demands Stella's help in disposing of a body. If Stella refuses, Priss threatens to tell all how Stella's "covert benevolent aid society" for abused women actually operates. When Priss and her brother disappear, Stella becomes a person of interest, forcing her to do her own sleuthing, all the while worrying about how her spirit-of-the-law tactics conflict with letter-of-the-law Goat. This third in this series (after A Bad Day for Pretty, 2010) is livened up with Stella's daughter Noelle's concerns about her sexuality, the development of Chrissy Shaw as Stella's assistant, and plans to celebrate Easter in grand style. But it's fiftyish Stella, healthy and toned after her recent injuries, who c
Advertisement