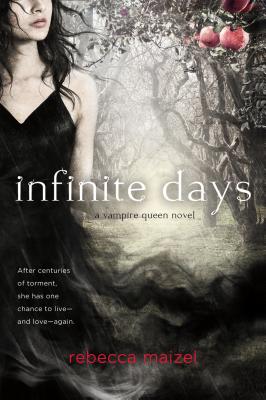 Infinite Days (Paperback)
A Vampire Queen Novel
St. Martin's Griffin, 9780312649913, 336pp.
Publication Date: August 3, 2010
Other Editions of This Title:
Digital Audiobook (8/16/2010)
Paperback (4/1/2011)
MP3 CD (8/17/2010)
Compact Disc (8/17/2010)
Compact Disc (8/17/2010)
Pre-Recorded Audio Player (11/1/2010)
* Individual store prices may vary.
Description
The first in the delicious new Vampire Queen YA series, a tale that rewrites the rules of blood-sucking eternity
"I never expected to be sixteen again...then again, I never expected my past to come back and haunt me . . ."
After centuries of terrorizing Europe as the world's most powerful vampire queen, Lenah is finally able to realize the dream all vampires have -- to be human again. After performing a dangerous ritual to restore her humanity, Lenah entered a century-long hibernation, leaving behind the wicked coven she ruled over and the eternal love, Rhode, who sacrificed himself in the ritual to grant her deepest wish.
But when Lenah draws her first natural breath in centuries at Wickham Boarding School in Lover's Bay, Massachusetts, she rediscovers a human life that bears little resemblance to the one she had known. As if suddenly waking up a teenager isn't hard enough, she has to dress herself appropriately, go to class, and be gawked at as the beautiful new girl, all while learning her new human senses and weaknesses -- and trying not to fall in love with Justin, the most popular guy in school.
And right when she thinks she has the hang of it, the worst happens: Her old life collides violently with her new one, making Lenah realize how attached she's become to her humanity. How can she choose between protecting her new friends and honoring her past?
"Infinite Days is a wonderfully sexy, dark novel full of lush prose. Rebecca Maizel is a marvel, writing more than just a story, she creates myth with every page." —Carrie Jones, author of New York Times bestselling series, NEED
About the Author
Rebecca Maizel is the bestselling author of the Vampire Queen series, starting with Infinite Days. She graduated from Boston University and the Rhode Island College master's program. She teaches community college in Rhode Island and is studying to receive her MFA from Vermont College.
Praise For Infinite Days: A Vampire Queen Novel…
"Infinite Days is a wonderfully sexy, dark novel full of lush prose. Rebecca Maizel is a marvel, writing more than just a story, she creates myth with every page." —Carrie Jones, author of NYT bestselling series, NEED
"Once the most feared vampire in the world, Lenah Beaudonte wants what all vampires eventually want: to be human and feel, love and even cry again. After an elaborate ritual that involves the death of her soul mate for the last 592 years and a 100-year secret hibernation at her English countryside estate, Lenah awakens at an elite New England boarding school, returned to her former 16-year-old human self. As she adjusts to the new century (almost too quickly, "chatting up" friends in mere days), tries to fit in with her peers and experiences her first human love with gorgeous and intelligent Justin and guilt for her past ruthless killings, flashbacks across the centuries reveal Lenah's former life as a vampire, how she formed the coven she rules and why she must prepare to battle its members once they discover her disappearance. In this new series starter, strong, brave, powerful Lenah sheds the wannabe image, capturing readers instead with her complex yet fascinating history and visceral, at times sensual, narration." —Kirkus
"Maizel has written a gripping debut novel that wraps a historical story into a modern, paranormal tale. Lenah is a multilayered woman who understands the test of time, yet experiences life as if just born. A new series sure to appeal to many — young and old. Breathtaking!" —Romantic Times Book Reviews (Top Pick)
"Maizel's dark and dreamy debut reverses the vampire trend with a heroine whose heart's desire is to regain her humanity and abandon her evil past. After more than 500 years as the queen of her English coven, perpetual 15-year-old Lenah finally has her chance to become human again when her vampire sire sacrifices himself for the necessary ritual. Determined to live her new days to the fullest before her coven finds and kills her for her betrayal, Lenah explores American teenage life at a boarding school in Massachusetts with best friend Tony and boyfriend Justin. Eventually discovered, abducted, and remade as a vampire, Lenah retains her soul and becomes something entirely new--a compassionate vampire with unexpected powers who can bridge the worlds. She returns to school and her friends, but the coven isn't far behind, and they aren't interested in mercy. Maizel's lustrous style is occasionally uneven, but the captivating characters and intriguing story easily overcome the slight flaws. Vampire fans or not, readers will find a lot to enjoy in this exploration of the power of intent, desire, love, and sacrifice." —Publishers Weekly
"Infinite Days is a deliciously engaging mix of vampires and romance, peppered with humor and layered with a lush, grippingly dark backstory. Rebecca Maizel's first novel is a real treat!" —A.M. Jenkins, author of Damage