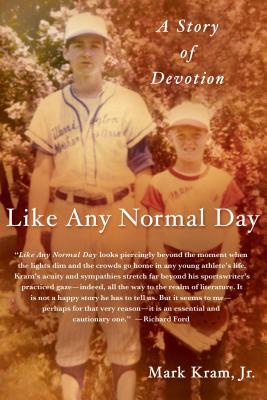 Like Any Normal Day
A Story of Devotion
Hardcover

* Individual store prices may vary.
Description
Winner of the 2013 PEN/ESPN Award for Literary Sports Writing, "Like Any Normal Day "is a profound, powerful narrative of a golden boy's tragedy, a woman's unlived life, and a brother's complicated devotion.
In the mid-1970s, brothers Buddy and Jimmy Miley were close, both on the verge of impressive athletic careers. A promising high school quarterback, Buddy's potential was cut short by an injury that left him quadriplegic. Immobile and imprisoned in his body for decades, Buddy would watch life pass by from his wheelchair, living at home under his mother's and brother's care, and wondering what his life could have been.
Buddy and Jimmy visited special hospitals and traveled to Lourdes in search of a miracle, never losing hope as they searched for a cure. But as Buddy suffered increasing pain, and also realized that he would never be able to walk again and never prove himself capable of being loved by Karen, a woman he'd first met in high school he asked Jimmy to help him end his life.
Beautifully written, both heart-wrenching and hopeful, Mark Kram Jr.'s "Like Any Normal Day" explores the important bonds between families and the depths of what we're willing to do for those we love.
"Like Any Normal Day "is the winner of the 2013 PEN/ESPN Award for Literary Sports Writing.
Praise For Like Any Normal Day: A Story of Devotion…
"Like Any Normal Day looks piercingly beyond the moment when the lights dim and the crowds go home in any young athlete's life.  Kram's acuity and sympathies stretch far beyond his sportswriter's practiced gaze -- indeed, all the way to the realm of literature.  It is not a happy story he has to tell us.  But it seems to me -- perhaps for that very reason -- it is an essential and cautionary one." —Richard Ford
"Mark Kram, Jr. offers us an iconic story of the broken promises of youth, the ties that bind and blessings and curses that come with them. Kram honors these characters by giving the reader what was in their lives—the loss, the love, the rage, without commentary or apology.  If you can't find yourself somewhere in this book, you're not looking hard enough." —Brad Falchuk, Co-Creator / Executive Producer of "Glee" and "American Horror Story."
"There is nothing normal about Like Any Normal Day. In the spirit of his late father, Mark Kram Jr. has stripped away the mythology and stereotypes of the sporting world and found something deeper, the complicated truth of a profound and haunting story." —David Maraniss, author of When Pride Still Mattered
"Mark Kram, Jr. has always been among the nation's very finest newspaper feature writers, and now his book, Like Any Normal Day, exhibits the same superb craft. It is a story that is so sad, yet so filled with every variation of the sweetest love, wonderfully, lovingly told. Kram has drawn the people in it so well that they and the scenes they inhabit will long stay in your memory." —Frank Deford, author of Everybody's All-American
"Like Any Normal Day is both extraordinary and unexpected. It's about more than the famously ruthless mercies applied by Dr. Kevorkian. It is an intimate family history. As constructed by Mark Kram Jr., the narrative begins with a high school football game and drives to that place separating bravery and compassion, longing and love. Kram is an expert reporter, sure, but his beat might well be the human soul." —Mark Kriegel, author of the Pistol: The Life of Pete Maravich and Namath
"Like Any Normal Day is anything but normal. It's heart-breaking and heart-warming, a compelling story of brothers, love, tragedy and sports. Mark Kram Jr. takes us on a raw emotional journey that turns into a riveting American story." —Christine Brennan, USA Today columnist, ABC News and NPR commentator, author of Best Seat in the House
"Read this book and Buddy Miley will become part of your life. He will be there every time you see anyone in a wheelchair. He will be there every time the announcer says someone is hurt, lying on a football field and not moving. He will be there every time you think twice about whatever problem is kicking your behind on a particular day, a reminder that things could be worse. Read this book and...just read this book. Terrific." —Leigh Montville, author of The Big Bam and Evel: The High-Flying Life of Evel Knievel
"Kram deftly reveals the intimate details of the story, and he delves into the complex and troubled Miley family dynamics with a skilled reporter's eye.
A heartbreaking story of love and dedication told with remarkable compassion and literary skill." —Starred Kirkus Review
"Philadelphia sportswriter Kram elegantly tells a poignant and sad tale of struggle, loss and love that illustrates both how quickly life can change and how deep our bonds to our families grow through times of crisis." —Publishers Weekly
"With a reporter's eye for detail and character, Kram takes what could have been a relentlessly depressing story and turns it into one that is equal parts hope and triumph. A potentially controversial book - assisted suicide being a perennially hot-button issue - it is genuinely inspiring." —Booklist
"Whether you agree or disagree with their decision, you'll be unable to turn away from the heartbreaking true story of a paralyzed man and the devoted brother who helps him die." —O, the Oprah Magazine
"Kram's reporting skill shines through as he draws out Buddy's reticent brother Jimmy and high school girlfriend, Karen. The result is an honest, unsentimental and painfully human story." —Sports Illustrated
"It's an upsetting story, and in the hands of a pedestrian reporter, it might prove a story too depressing to pick up. But then you'd miss out on what Mark Kram does best, which is to take the time to listen closely, to discover the power in nuance, to tell the story within the story—old Daily News values, mostly gone now, but not forgotten." —The Philly Post
"Movingly chronicled." —Boston Globe
"Brilliant and heartwrenchingly detailed." —New York Daily News
"Through tender prose, an eye for intimate detail, and a knack for parachuting you right into his characters' heads, Kram's first book is a haunting tale of unconditional love…The book is a gripping tale of life after tragedy."  —The Harrisburg Patriot
"This story is told in depth and with sensitivity, insight and heart…it is about life, courage, survival, hope and, mostly, love. It's an amazing story, brilliantly and sensitively told." —Chestnut Hill Local
"Kram presents with compassion and grace such complexities as the dynamics of a family in crisis, the balance of hope with skepticism, and the question of whether, if, and when a person should have the opportunity to end his or her life." —Bill Littlefield on 90.9 WBUR, Boston's NPR News Station
St. Martin's Press, 9780312650032, 272pp.
Publication Date: April 24, 2012
About the Author
MARK KRAM, JR. writes for "The Philadelphia Daily News." His feature articles have won the Sigma Delta Chi award from the Society of Professional Journalists, been awarded top honors by the Associated Press for three consecutive years, and been published six times in "The Best American Sports Writing Anthology." "Like Any Normal Day "is the winner of the 2013 PEN/ESPN Award for Literary Sports Writing. Kram lives in New Jersey with his wife and two daughters.
or
Not Currently Available for Direct Purchase