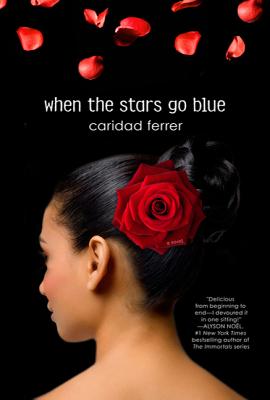 When the Stars Go Blue (Paperback)
A Novel
St. Martin's Griffin, 9780312650049, 336pp.
Publication Date: November 23, 2010
* Individual store prices may vary.
Description
Winner of an International Latino Book Award
A dancer driven to succeed.
A musical prodigy attempting to escape his past.
The summer they share.
And the moment it all goes wrong.
Dance is Soledad Reyes's life. About to graduate from Miami's Biscayne High School for the Performing Arts, she plans on spending her last summer at home teaching in a dance studio, saving money, and eventually auditioning for dance companies. That is, until fate intervenes in the form of fellow student Jonathan Crandall who has what sounds like an outrageous proposition: Forget teaching. Why not spend the summer performing in the intense environment of the competitive drum and bugle corps? The corps is going to be performing Carmen, and the opportunity to portray the character of the sultry gypsy proves too tempting for Soledad to pass up, as well as the opportunity to spend more time with Jonathan, who intrigues her in a way no boy ever has before.
But in an uncanny echo of the story they perform every evening, an unexpected competitor for Soledad's affections appears: Taz, a member of an all-star Spanish soccer team. One explosive encounter later Soledad finds not only her relationship with Jonathan threatened, but her entire future as a professional dancer.
About the Author
Caridad Ferrer is a winner of the RITA and International Latino Book Award. She is the author of When the Stars Go Blue, Adiós to My Old Life and It's Not About the Accent. Ferrer was a drum major in high school and a member of the drum and bugle corps for three years. She lives with her family near Seattle, Washington.
Praise For When the Stars Go Blue: A Novel…
"Ferrer understands the drive that consumes aspiring artists and athletes, and she conveys this single-minded absorption with charm and intensity. All three teens are likable, even lovable, and readers will empathize with their difficult choices. The story effectively depicts the excitement of performance, the intrigue of one girl traveling among 150 boys, Jonathan and Soledad's steamy romance, and Taz's courtly pursuit. Beautifully written, with contemporary characters and an engaging story line, it lacks only the promise of a sequel to make it complete." —Booklist
"All the pain, passion and consequences of first love, told from the heart of a bold, feisty heroine make this a hard-to-put-down read. Ferrer elegantly captures both the certainty and doubt of young love and combines it with the lessons of growing up and coping with change." —RT Book Reviews (4 stars)
"A fresh, new spin on a classic tale, Caridad Ferrer delivers a dreamy romance with all the necessary ingredients: a feisty heroine, an irresistible hero, and an ending that will make you swoon. Delicious from beginning to end--I devoured it in one sitting!" —Alyson Noël, #1 New York Times bestselling author of The Immortals series
"With the grace of a ballerina and the fiery moves of a salsa dancer, Caridad Ferrer's When the Stars Go Blue jetes into the reader's heart in a story as romantic, funny, dramatic and moving as the best of So You Think You Can Dance?" —Lauren Baratz-Logsted, author of Crazy Beautiful and The Education of Bet
"For fans of drum corps or marching band, this novel is your automatic read of the year. For everyone else...Come for two hot guys in love with one driven dancer. Stay for the lyrical prose that captures spicy Miami and entices you on a young woman's cross-country tour as she comes of age among a hundred and fifty men! Don't miss this adrenaline-filled performance of a lifetime." —Jennifer Echols, author of Going Too Far