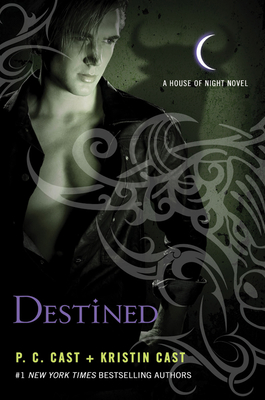 Destined (Hardcover)
Griffin, 9780312650254, 325pp.
Publication Date: October 25, 2011
Description
Zoey is finally home where she belongs, safe with her Guardian Warrior, Stark, by her side, and preparing to face off against Neferet - which would be a whole lot easier if the High Counsel saw the ex-High Priestess for what she really is. Kalona has released his hold on Rephaim, and, through Nyx's gift of a human form, Rephaim and Stevie Rae are finally able to be together - if he can truly walk the path of the Goddess and stay free of his father's shadow...
But there are new forces at work at the House of Night. An influx of humans, including Lenobia's handsome horse whisperer, threatens their precarious stability. And then there's the mysterious Aurox, a jaw-droppingly gorgeous teen boy who is actually more - or possibly less - than human. Only Neferet knows he was created to be her greatest weapon. But Zoey can sense the part of his soul that remains human, the compassion that wars with his Dark calling. And there's something strangely familiar about him...
Will Neferet's true nature be revealed before she succeeds in silencing them all? And will Zoey be able to touch Aurox's humanity in time to protect him - and everyone - from his own fate? Find out what's destined in the next thrilling chapter of the House of Night series.
About the Author
P.C. Cast is an award-winning fantasy and paranormal romance author, as well as an experienced speaker and teacher. With her daughter Kristin Cast, she is the author of the House of Night novels, including Awakened, Burned and Hunted. Cast was born in the Midwest, and as a girl fell in love with mythology. After high school, she joined the U.S. Air Force, then taught high school for 15 years before retiring to write full time. Cast's novels are New York Times bestsellers and have been awarded the Oklahoma Book Award, YALSA Quick Pick for Reluctant Readers, Romantic Times Reviewers' Choice Award, the Prism, Holt Medallion, Daphne du Maurier, Booksellers' Best, and the Laurel Wreath. Ms. Cast lives in Oklahoma, where she is a member of the Oklahoma Writers' Hall of Fame. She splits her time between her ranch and midtown Tulsa where she has a home just down the street from the House of Night...Kristin Cast has won awards for her poetry and journalism. She also lives in Oklahoma, where she attends college in Tulsa.
Praise For Destined…
Praise for the House of Night series: "Twilight meets Harry Potter… Zoey Redbird… is basically the most relatable vampire — sorry, fledgling vampyre — I've ever read about." –MTV.com on The House of Night series "This amazing writing pair once again weaves together a world where rising darkness threatens and brave teens risk everything." – RT Book Reviews (4 ½ stars) on Destined
"As the plot lines converge later in the novel, the action becomes both intense and thoroughly entertaining….this outing will not disappoint House of Night fans." – Kirkus Reviews on Destined
"The mega-selling Cast team continues to reveal its pulse-pounding saga through the viewpoints of multiple characters, giving fresh insight into their hearts and motivations... Tragedy, sacrifice and choice are all themes that make this story gripping." – RT Book Reviews on Awakened
"The saga of the 
House of Night
 series continues to smolder in 
Burned
…The dual story lines create double the tension and conflict in this latest installment; fast paced and packed with mystery, suspense, and romance, this book is a hard one to put down." 
VOYA, 
on 
Burned
 "Cast and Cast pull out all the stops and take this story to shattering new heights with devastating consequences!" 
–
RT Book Reviews
 (4 ½ stars) on 
Tempted
 "Move over, Stephenie Meyer." –People on Hunted
 "The Cast duo has done it again!  These ladies appear to be an unstoppable force within the world of YA literature…" –TeensReadToo.com (5 stars) on Hunted
"These books will have the reader laughing hysterically and sobbing unreservedly—sometimes all at once." –VOYA on Marked and Betrayed
"Cast reeled me in from paragraph one.  I snorted and giggled through the whole thing, and devoured it in one sitting." –MaryJanice Davidson, New York Times bestselling author of the Undead series, on Marked
Advertisement