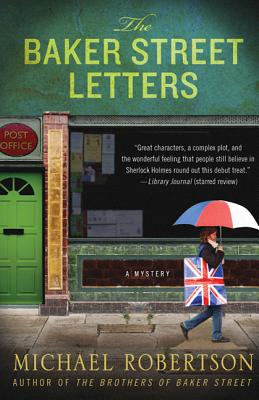 The Baker Street Letters (Paperback)
Minotaur Books, 9780312650643, 277pp.
Publication Date: February 1, 2011
Description
First in a spectacular new series about two brother lawyers who lease offices on London's Baker Street--and begin receiving mail addressed to Sherlock Holmes
In Los Angeles, a geological surveyor maps out a proposed subway route and then goes missing. His eight-year-old daughter in her desperation turns to the one person she thinks might help she writes a letter to Sherlock Holmes.
That letter creates an uproar at 221b Baker Street, which now houses the law offices of attorney and man about town Reggie Heath and his hapless brother Nigel. Instead of filing the letter like he's supposed to, Nigel decides to investigate. Soon he's flying off to L.A., inconsiderately leaving a very dead body on the floor in his office. Big brother Reggie follows Nigel to California, as does Reggie's sometime lover, Laura a quick-witted stage actress who's captured the hearts of both brothers.
When Nigel is arrested, Reggie must use all his wits to solve a case that Sherlock Holmes would have savored, and Sir Arthur Conan Doyle fans will adore.
About the Author
Michael Robertson works for a large company with branches in the United States and England. The Baker Street Letters is his first novel and has been optioned by Warner Bros. for television. He lives in Southern California.
Praise For The Baker Street Letters…
"A very entertaining novel. Mystery fans, whether they're Sherlock Holmes addicts or not, will thoroughly enjoy it. [This] should be a popular series indeed."
- Booklist

"An intriguing and original plot, a likeable detective and a page turning read."
- M. C. Beaton

"A transatlantic mystery draws two brothers into a web of murder when attorney Reggie Heath rents office space on Baker Street. He begins receiving letters from various places addressed to Sherlock Holmes, and considers the letters an amusing nuisance. But his mentally fragile younger brother Nigel, who's working as a clerk for his brother, becomes obsessed with the continuing correspondence of a young Californian searching for her missing mother. Sure-footed, Robertson's debut is lively and inventive."
- Kirkus Reviews
Advertisement