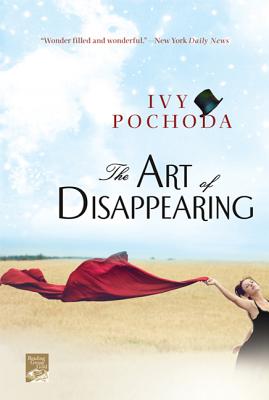 The Art of Disappearing (Paperback)
A Novel
St. Martin's Griffin, 9780312650995, 320pp.
Publication Date: September 28, 2010
* Individual store prices may vary.
Description
How do you know if love is real or just an illusion?
When Mel Snow meets Toby Warring in a dusty roadside bar, she is instantly drawn to the brilliant magician who can pull roses from thin air and conjure castles out of desert sands. They marry two days later, and begin a life together in the shadow of Las Vegas, where Toby hopes to make it big. Mel knows that magicians are a dime a dozen, but Toby is different—his magic is real.
But as Toby's renown grows and Mel falls more and more in love with his wonderments, she starts to realize that Toby's powers are as unstable as they are dazzling. She learns that he once made his assistant disappear completely, and couldn't bring her back. And soon she begins to wonder if the love they share is genuine or merely a fantasy, conjured up by a lost magician looking to save himself from being alone.
Ivy Pochoda's spellbinding and cinematic storytelling seamlessly fuses timeless magic to modern-day passion. Haunting and beautiful, The Art of Disappearing is an imaginative and captivating love story destined to enchant readers for years to come.
About the Author
Ivy Pochoda graduated from Harvard University with a degree in Classical Greek and English. She was a champion squash player and a six-time member of the United States Women's National Squash Team. She was the Spring 2009 James Merrill House Writer-in-Residence. She lives in Brooklyn, New York. The Art of Disappearing is her first novel.
Praise For The Art of Disappearing: A Novel…
"A terrific page-turner about a stage magician and a traveling textile designer who meet in Vegas and marry two days later, and all the mystery and mayhem that ensues." —Elle
"A lyrical novel that will enchant you with a love story and with poetic, evocative prose." —Shelf Awareness
"An uncommonly good first novel about the unlikely love between a lonely woman and a most unusual magician. It's a magical story, full of passion, heart break, and wonder." —Peter Hedges, author of What's Eating Gilbert Grape
"In this beguiling first novel, Pochoda brings an acute eye and vivid imagination to the ordinary details of life. The result is magic itself." —Rebecca Johnson, author of And Sometimes Why
"Ivy Pochoda's language is hypnotic, her story refreshingly original. Most important of all, the characters she conjured made me ache. Prepare to let go of the mundane and embrace the fantastical in this well-imagined debut. It is utterly spellbinding." —Amy McKinnon, author of Tethered
"Ivy Pochoda's brilliant first novel convinces us of the magic of reality, and the reality of magic. A seductive delight for all the senses, not least, the sixth." —Galt Niederhoffer, author of The Romantics