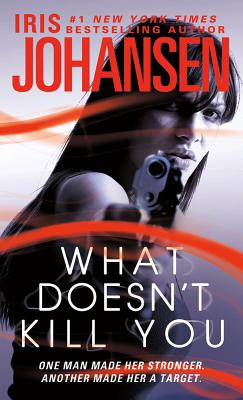 What Doesn't Kill You (Mass Market Paperbound)
St. Martin's Press, 9780312651299, 408pp.
Publication Date: September 18, 2012
* Individual store prices may vary.
or
Not Currently Available for Direct Purchase
Description
What Doesn't Kill You
Iris Johansen

"In this breathtaking thriller, number-one bestselling author Iris Johansen showcases one of her most fascinating characters pitted against one of the most ruthless killers "

Abandoned on the streets of Hong Kong, Catherine Ling was schooled in the art of survival by the mysterious Hu Chang, a master assassin and poisoner. Now recruited by the CIA, Catherine finds herself caught between worlds when her mentor develops a formula that is extremely fatal, virtually untraceable and highly coveted. On the hunt for this prize are a rogue operative, a band of criminals, and a man so evil he kills without remorse. Catherine will do anything to protect those she loves: Hu Chang and her son Luke. But she will have to use every deadly weapon, every double cross, every lethal lesson she ever learned to prove that what doesn't kill you makes you stronger
About the Author
Iris Johansen is the #1 New York Times bestselling author of Bonnie, Quinn, Eve, Chasing the Night, Eight Days to Live, Blood Game, Deadlock, Dark Summer, Quicksand, Pandora's Daughter, Killer Dreams, On the Run, Countdown, Firestorm, Fatal Tide, Dead Aim, No One to Trust, and more. She lives near Atlanta, Georgia.
Praise For What Doesn't Kill You…
Praise for iris johansen
and her acclaimed trilogy…
eve  
"Johansen launches a trilogy that takes the reader on an action-packed journey filled with killers and heroes, leaving readers on tenterhooks."—Booklist  
"Gripping…Johansen deftly baits the hook for the next volume."—Publishers Weekly
"The suspense and action will entertain all, even those new to the series." —Library Journal (starred review)
"Johansen's stories keep getting better with each installment.  You will find yourself drawn to Eve and caring about what happens to her."—Night Owl Reviews (A Top Pick)
"A superb kick off ..an excellent presentation to this fantastic series that is a one sitting read."—Reader to Reader Reviews
"Read Eve and be hooked."—RT Book Reviews
QUINN
"The pulse-pounding pace will leave readers breathlessly anticipating the final installment."—Publishers Weekly (starred review)
"The second chapter in the gut-wrenching trilogy…Johansen's intense storytelling style drags readers into a whirlpool of danger and treachery that can have horrifying results. It's awesome!" —RT Book Reviews
"Suspenseful and entertaining…an integral read for fans of Johansen's Eve Duncan series" —Library Journal  
"Johansen's latest has myriad twists and turns…ideal." —Booklist
BONNIE
"A stunning finale that will move series fans and newcomers alike."—Publishers Weekly (starred review)
"Johansen conducts a nail-biting excursion through madness and physical endurance in this stunning conclusion to a very popular trilogy."—Booklist
"Top-notch suspense…a satisfying conclusion to the Eve and Quinn trilogy and a must-buy."—US Daily Review
Advertisement