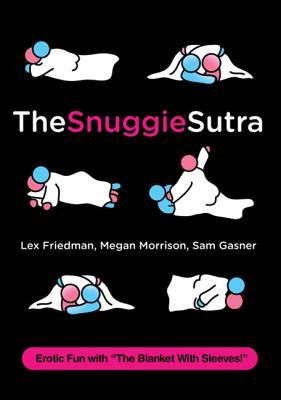 The Snuggie Sutra (Hardcover)
Griffin, 9780312652678, 124pp.
Publication Date: September 28, 2010
Description
The Snuggie is a pop culture icon that quickly developed its own cult of awareness. Few of us were asking for a blanket with sleeves, but that's because we'd forgotten how to dream. Once we'd purchased our Snuggies, we quickly realized our world had changed for the better. Now, we want to show you just what makes the Snuggie cozy and sexy. Brilliantly illustrated with drawings of couples in flagrante delicto, our comprehensive guide includes--in ascending order of difficulty--everything from "The Warm and Snuggie" (for beginners) to "The Yes Ma'am" (perfect for hiding your flaws--not that you have any, of course ) to "The Night In" (which works great when you're staying home to page through The Snuggie Sutra).
Based on our blog of the same name, which scored mentions everywhere from The Tonight Show with Conan O'Brien to New York magazine and a host of radio stations all over the country, The Snuggie Sutra covers important topics like how to convince your partner to bring a Snuggie into the bedroom and how to set the Snuggie mood (candles and Snuggies don't mix ). We are thrilled to share this first-of-its-kind sexual handbook with the reading, Snuggie-wearing, and love-making public.
Enjoy
--The Snuggie Sutrists
About the Author
LEX FRIEDMAN writes a lot of funny things. His comedy music videos have been featured by Yahoo! and TiVo, and have amassed more than half a million views on YouTube. For a year, Lex wrote and hosted the web series The Week in Douchebaggery on Cracked.com, making his parents very proud. Lex Twitters, blogs, and occasionally steps away from the computer, only to rush back when he thinks of more sexual positions involving Snuggies. Lex is also frequently published on Macworld.com. He lives in New Jersey with hsi wife and two young daughters, who may never know of The Snuggie Sutra's existence. MEGAN MORRISON lives and works in Washington, D.C. as a graphic designer, and is delighted each day to remember that she actually makes a living at it. Megan enjoys lip gloss, fine liquid dining, and the company of friends and family who said they couldn't be prouder of her upon their first glimpses of tiny cartoon sex drawings tacked up all over her bedroom.
Praise For The Snuggie Sutra…
"I'm recommending it. Passionately.  Simply put, this is brilliance on the page ... it's all freakin' hilarious."--Rachel Deahl, Publishers Weekly "The Snuggie Sutra shows you the best sexual positions for getting it on while in a sleeved blanket... The book [is] hilarious." --Cosmopolitan
Advertisement