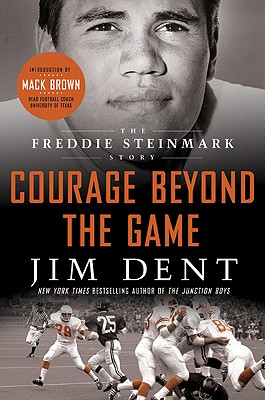 Courage Beyond the Game: The Freddie Steinmark Story (Hardcover)
The Freddie Steinmark Story
Thomas Dunne Books, 9780312652852, 304pp.
Publication Date: August 16, 2011
* Individual store prices may vary.
or
Not Currently Available for Direct Purchase
Description
A Kirkus Reviews Best Nonfiction of 2011 title
Jim Dent, the award-winning, New York Times bestselling author of The Junction Boys, returns with a powerful Texas story which transcends college football, displaying the courage and determination of one of the game's most valiant players.
Freddie Steinmark was an under-sized but scrappy young man when he arrived in Austin as a freshman at the University of Texas in 1967. Despite the pronouncement by many coaches that he was too small to play football at the college level, Freddie was a tenacious competitor who vowed to start every game as a varsity Longhorn.
By the start of the 1969 season, Freddie was making his mark on the college gridiron and national stage as UT's star safety, but he'd also developed a crippling pain in his thigh that worried his high school sweetheart, Linda. Despite the increasingly debilitating pain, Freddie continued to play throughout the season, helping the Longhorns to rip through opponents like pulpwood. His final game was for the national championship at the end of 1969, when the Longhorns rallied to beat Arkansas in a legendary game that has become known as "the Game of the Century."
            Tragically, bone cancer took Freddie off the field when nothing else could. But nothing could extinguish his irrepressible spirit or keep him away from the game. Although his struggle with cancer would be short-lived, Freddie's fight would inspire the nation as well as thousands of cancer victims, earning him a special citation from President Richard Nixon. Today, a photo of Freddie hangs in the tunnel at Darrell K. Royal-Texas Memorial Stadium, where players touch it before games en route to the field. With this moving story, a Brian's Song for college football, Jim Dent once again brings readers to cheers and tears with a truly American tale of resolution and bravery in the face of the worst odds.
Praise for Courage Beyond the Game:
"Dent (The Junction Boys, 2001) brings Steinmark to life through interviews with friends, teammates, and coaches, who confirm that he was every bit the All-American boy… Dent doesn't oversell this inspirational story in the Brian's Song mold. In the end, readers may feel they've met an extraordinary young man and, though it's been 40 years since he died, mourn his passing." --Booklist
"Jim Dent, dadgum him, keeps writing books I wish I'd written. Like The Junction Boys and Twelve Mighty Orphans, to name two. Now here he comes with another terrific effort, Courage Beyond the Game, the story of the most courageous kid to ever pull on a football suit. If you pick it up, it's guaranteed to pick you up.'' --Dan Jenkins, author of Semi-Tough and Dead Solid Perfect
"Jim Dent is a world class story teller, and in Freddie Steinmark's courageous and triumphant fight to be a man of substance, he's found a tale worthy of his ample talents.  Dent will bring tears to your eyes, and Steinmark's example will make you want to be a better person.'' --Joe Drape, New York Times bestselling author of Our Boys: A Perfect Season on the Plains with the Smith Center Redmen
"You will cheer and you will weep as you read Jim Dent's irresistible rendering of one of the great real-life dramas in college football history. Dent has brought plenty of tough guys to life in his other books, but little Freddie Steinmark surely ranks as the toughest. Dent has brilliantly re-cast a Longhorn legend. I could not put Courage Beyond the Game down.'' --John Eisenberg, author of That First Season: How Vince Lombardi Took the Worst Team in the NFL and set it on the Path to Glory, and Cotton Bowl Days: Growing up with Dallas and the Cowboys in the 1960s
''Freddie Steinmark's story will inspire you and make you cry, and Jim Dent has told it better than anyone in Courage Beyond the Game. Jim's eye for detail and gifted writing will take you back to another place and time, and a new generation of college football fans will learn why Freddie lives forever in the hearts of those he touched in his brief life.'' --Richard Justice, lead sports columnist for The Houston Chronicle
"Courage Beyond the Game is a wonderful book whose protagonist, the doomed University of Texas safety Freddie Steinmark, delivers just what the title promises. Veteran sports author Jim Dent infuses a narrative whose ending we all know with depth, tenderness, and unexpected insights. His Steinmark could have easily been a cardboard saint. Instead the Steinmark we meet is intensely human, inspirational, funny and utterly unforgettable. This was a book I couldn't put down.'' --Bill Livingston, Cleveland Plain Dealer sports columnist
"Jim Dent once again proves his mastery of the way football felt and sounded in the days of Texas and the Southwest Conference. His inspirational portrait of Freddie Steinmark takes us back to a purer time.'' --Mark Whicker, Orange Country Register sports columnist
"Freddie Steinmark defined college football with his unquenchable thirst for life, unbridled spirit through adversity, and rare passion for the game he lived to play. Jim Dent can tell a story life like few others and brought this must-read, must-be-told account back to life for all to relish with his riveting, gut-wrenching book, Courage Beyond the Game.'' --Kirk Bohls, Austin American Statesman sports columnist
About the Author
JIM DENT, a long-time award-winning journalist who covered the Dallas Cowboys for eleven years at the "Dallas Times Herald "and the "Fort Worth Star-Telegram, "has written eight books, including "Twelve Mighty Orphans, "and "The Junction Boys," the "New York Times "bestseller and ESPN movie that remains a fan favorite to this day. Dent lives in Texas.
Praise For Courage Beyond the Game: The Freddie Steinmark Story…
Praise for Courage Beyond the Game:
*Named one of Kirkus Reviews' Best Nonfiction titles of 2011
"Dent (The Junction Boys, 2001) brings Steinmark to life through interviews with friends, teammates, and coaches, who confirm that he was every bit the All-American boy… Dent doesn't oversell this inspirational story in the Brian's Song mold. In the end, readers may feel they've met an extraordinary young man and, though it's been 40 years since he died, mourn his passing." --Booklist
"Jim Dent, dadgum him, keeps writing books I wish I'd written. Like The Junction Boys and Twelve Mighty Orphans, to name two. Now here he comes with another terrific effort, Courage Beyond the Game, the story of the most courageous kid to ever pull on a football suit. If you pick it up, it's guaranteed to pick you up.'' --Dan Jenkins, author of Semi-Tough and Dead Solid Perfect
"Jim Dent is a world class story teller, and in Freddie Steinmark's courageous and triumphant fight to be a man of substance, he's found a tale worthy of his ample talents.  Dent will bring tears to your eyes, and Steinmark's example will make you want to be a better person.'' --Joe Drape, New York Times bestselling author of Our Boys: A Perfect Season on the Plains with the Smith Center Redmen
"You will cheer and you will weep as you read Jim Dent's irresistible rendering of one of the great real-life dramas in college football history. Dent has brought plenty of tough guys to life in his other books, but little Freddie Steinmark surely ranks as the toughest. Dent has brilliantly re-cast a Longhorn legend. I could not put Courage Beyond the Game down.'' --John Eisenberg, author of That First Season: How Vince Lombardi Took the Worst Team in the NFL and set it on the Path to Glory, and Cotton Bowl Days: Growing up with Dallas and the Cowboys in the 1960s
''Freddie Steinmark's story will inspire you and make you cry, and Jim Dent has told it better than anyone in Courage Beyond the Game. Jim's eye for detail and gifted writing will take you back to another place and time, and a new generation of college football fans will learn why Freddie lives forever in the hearts of those he touched in his brief life.'' --Richard Justice, lead sports columnist for The Houston Chronicle
"Courage Beyond the Game is a wonderful book whose protagonist, the doomed University of Texas safety Freddie Steinmark, delivers just what the title promises. Veteran sports author Jim Dent infuses a narrative whose ending we all know with depth, tenderness, and unexpected insights. His Steinmark could have easily been a cardboard saint. Instead the Steinmark we meet is intensely human, inspirational, funny and utterly unforgettable. This was a book I couldn't put down.'' --Bill Livingston, Cleveland Plain Dealer sports columnist
"Jim Dent once again proves his mastery of the way football felt and sounded in the days of Texas and the Southwest Conference. His inspirational portrait of Freddie Steinmark takes us back to a purer time.'' --Mark Whicker, Orange Country Register sports columnist
"Freddie Steinmark defined college football with his unquenchable thirst for life, unbridled spirit through adversity, and rare passion for the game he lived to play. Jim Dent can tell a story life like few others and brought this must-read, must-be-told account back to life for all to relish with his riveting, gut-wrenching book, Courage Beyond the Game.'' --Kirk Bohls, Austin American Statesman sports columnist
Advertisement